ACC Marcus Beale investigated after documents stolen from car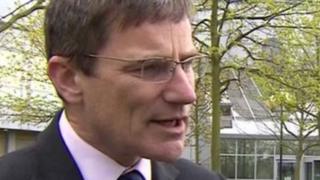 A former counter-terrorism boss is being investigated over allegations he did not protect "sensitive documents" which were stolen from his car.
The papers were in a locked box taken from Assistant Chief Constable Marcus Beale's unmarked car in May.
Scotland Yard said it had been asked by West Midlands Police to "undertake an independent investigation into any potential criminal liabilities".
West Midlands Police said the officer remained on duty.
A force spokeswoman, who did not name the officer, added the investigation was ongoing. The force has not said where the theft occurred.
Mr Beale, who was the force's counter-terrorism boss at the time of the theft, now holds its operations portfolio.
The documents which related to "police matters" were taken along with personal items from his locked boot.
The Scotland Yard spokesman said there had been no arrests.
The Metropolitan Police Service's specialist operations and directorate of professional standards was investigating "an alleged failure to safeguard sensitive documents" after the items were stolen, he said.
The Met was asked to investigate "due to the nature of the documents lost", he added.
/