Over half of parents apply for free 30 hours' childcare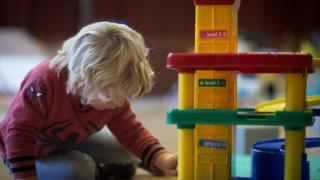 More than half of parents eligible to receive 30 hours' free childcare a week have now applied to take part in the scheme, the government says.
From 1 September most parents in England are entitled to the free care for children aged three to four.
However, education charities warned the scheme will cause "chaos" as it is underfunded and some nurseries may be forced to close.
The government says families could save £5,000 per year on childcare costs.
The Department for Education (DfE) says more than 200,000 parents have now successfully applied to receive the free childcare hours.
In total, 390,000 parents are eligible to receive help from the government with their childcare costs.
Am I eligible for 30 hours' free childcare?
Eligible parents have until midnight to register with the government to take advantage of the offer.
Education Secretary Justine Greening said: "For too long lots of families really struggled to manage the cost of childcare and that's why we have delivered on our promise to provide 30 hours free".
Education charities and nursery providers are warning though that the new scheme is underfunded, and that parents may face higher costs and nurseries could close.
A survey by the Pre-school Learning Alliance (PLA), which received answers from 1,400 nursery providers in England found:
74% of respondents said their current funding from the government would not cover the cost of delivering the 30-hour free childcare places
38% do not believe their business would be sustainable in 12 months' time
52% said they will increase charges for products such as children's meals, nappies and trips
42% were not confident they would be offering enough free childcare places to meet the expected demand
"The launch of the 30-hours offer should have been a day of celebration. Instead, all we have is a policy in chaos," said Neil Leitch, chief executive of the PLA.
"The government's total refusal to tackle, or even acknowledge, the fundamental problem of early years underfunding has left providers across the country struggling to find ways of delivering the offer that won't force them out of business".
Karen Simpkin, who runs a nursery in Sheffield, said she will offer only a limited number of free places.
"It costs me £7.50 an hour to look after a child in my nursery, but I'm only going to get £4.07 an hour from the government. I already know that I'm going to make a loss".
Previously parents in England have been entitled to 15 hours of free childcare per week, but during the 2015 general election the Conservatives promised to double this entitlement.
Both the Welsh and Scottish governments have pledged to give parents access to 30 hours of free childcare in the coming years.
Parents in Leeds are enthusiastic about the scheme, but some expressed frustrations about the registration system.
"I'm still hoping to get the 30 hours free, but I've found the online process really frustrating," said Rachel Wright. "At one point it felt like I had to answer 20,000 questions".
"In principle the idea is a fantastic," said Lucy Flahaerty. "But I do realise that we may have to pay extra money for additional things such as food, but overall we are still going to make a saving."
Adam Dean said: "It's all been straightforward for us and the nursery has been really helpful. I think this is going to save us a lot of money in the long run."
Overall the Department for Education has allocated £2.7bn toward funding the scheme in 2017/18, with local authorities receiving, on average, £4.78 per hour to provide the free childcare places.
Minister for Children and Families Robert Goodwill said: "We are determined to support as many families as possible with access to high-quality, affordable childcare, which is why we are investing a record £6bn every year by 2020 in childcare - more than ever before - and doubling the free childcare available to working parents to 30 hours a week, saving them up to £5,000 a year per child.
"This funding includes an additional £1bn per year by 2019-20 to pay for the free offers and to raise the national hourly rate to local authorities for three and four year olds to £4.94 per hour. This is far higher than the average hourly cost of providing childcare for three- and four-year-olds, which recent research has found to be £3.72.
"The 30-hour offer is already being delivered in several areas across the country, with over 15,000 children benefitting from a place.
"We know from our evaluation that providers are committed to offering 30 hours and the additional hours are having a really positive impact on families, taking huge pressures off families' finances."