Pair jailed for smuggling machine-guns into UK on coach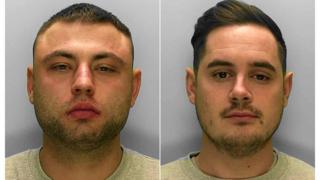 Two men who smuggled guns into the UK on a tourist coach have been jailed.
Police stopped Nicholas Barbary and Mark Maynard on the M23 in Sussex after following them from Coventry, where the pair had retrieved the arms cache.
Barbary, 29, of Crawley, West Sussex, and Maynard, 30, of Haywards Heath, admitted importing a pistol and two automatic sub-machine guns.
Barbary was jailed for 12 years and Maynard for 16 years and two months at Lewes Crown Court.
Armed officers found the haul of weapons and ammunition attached by magnets to the underside of a hire van which they stopped on a slip road off the M23 near Crawley in January, the court heard.
They had followed the pair from a coach park in Coventry, where the men had collected the package. It had been attached by similar means to the bottom of a coach that had just returned from a tourist trip to Belgium.
Police said neither the coach operator nor passengers were aware.
The package contained:
A loaded Walther P38 Luger pistol
Two reactivated Czechoslovakian Skorpion sub-machine guns, also loaded
An additional magazine and 150 rounds of ammunition
Det Sgt Paul Graham, of Sussex Police, said: "Clearly, these weapons posed a real threat to people in Sussex and elsewhere but we were able, working with law-enforcement partners in the UK and abroad, to prevent them reaching the streets and causing injury or death."
He added: "These arrests followed intelligence, and our investigation showed that the pair were responsible for these weapons coming into the UK and their collection once here."
Tom Guest, specialist organised crime prosecutor with the CPS, said: "Maynard and Barbary used a tourist coach excursion to smuggle deadly weapons into the country.
"Both engaged in significant planning to carry out this serious criminality."