'Crisis' warning over homeless addicts admitted to hospital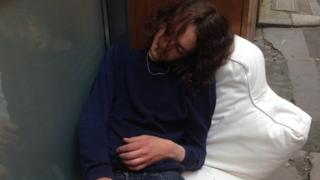 More than 21,000 homeless people have been admitted to hospital with problems relating to drink and drugs over the past three years.
A BBC investigation found the number of people of no fixed abode admitted for drug addiction increased by about a quarter between 2014 and 2016.
Addiction specialist and therapist Chip Somers said the figures pointed to a "crisis situation".
The government said the issue was "complex" with "no single solution".
The BBC submitted Freedom of Information requests to 145 hospital trusts in Britain and Northern Ireland after it was revealed the number of homeless families in the UK had risen by more than 60% since the beginning of the decade.
Homelessness rise
England, 2010-2017
134%
rise in rough sleepers
60%
rise in households living in temporary accommodation
77,000 families in temporary accommodation, March 2017, including...

120,000 children

£1.15bn council spending on homelessness 2015-16
PA
The replies showed almost 11,000 people of no fixed abode were admitted to hospital suffering from alcohol-related issues since 2014, as well as more than 8,500 people with drug problems.
The total figure is likely to be higher as 20 trusts did not give figures if they had fewer than five cases in a year.
The figures also revealed the number of people admitted to hospital with problems related to drugs has increased from about 2,500 in 2014 to more than 3,100 in 2016.
'I fear he could die on the streets'
Patrick Balfe has been diagnosed with schizophrenia, bipolar and depersonalisation disorder.
The 29-year-old from Portsmouth is addicted to heroin, crack and alcohol and has been living on the streets since February 2016.
His sister Abigail, who has launched a campaign to raise awareness of Mr Balfe's situation, said he was known to hospital staff in London even before he was on the streets due to problems associated with drink and drugs.
She said he was a talented musician, playing at gigs, writing and performing his own music and touring with a band.
His life started to spiral downhill when he began hearing voices in his head and turned to drink.
He moved to London to start a life as a musician, but once there started taking drugs regularly.
Mr Balfe ended up on the streets in February 2016 after failing to pay rent on a flat he was sharing with a friend.
Ms Balfe said: "He needs to get drugs to feel well and he needs money for that.
"If he can't get enough money begging he will be withdrawing somewhere, really ill."
She said her brother was so scared to leave the streets, of being away from alcohol and drugs, that all efforts to help him have proved impossible. She has urged people who see him not to tell him about the campaign she is running due to worries over his mental health.
"I think there are a lot more people who have had these problems who haven't been admitted to hospital," she said.
"The way things are, either he has to make a decision to want help or we just watch him die on the streets."
Mr Somers blames a shortage of housing, failings within the prison and health system and the easy availability of cheap drugs.
As an addict himself, he lived on the streets or slept on friends' sofas between the ages of 17 and 37.
He went on to found the Bury St Edmonds-based Focus 12 rehabilitation charity in 1997. His clients included comedian Russell Brand.
Mr Somers said. "When I was an addict in the 1960s, 70s and 80s you had to work hard to be an addict.
"You had to find a dealer and a bit of money. You can secure drugs anywhere now, really easily and very cheaply."
'From a coma to hope'
Alice had long-term alcohol and substance misuse issues. She suffered from poor mental health and was a victim of domestic violence.
That was before Cambridgeshire County Council's Counting Every Adult (CEA) Service got involved.
When the CEA started working with Alice she was in and out of hospital, staying on friends' floors or sleeping rough.
She was airlifted to hospital and spent time in an induced coma due to alcohol poisoning, but never felt strong enough to leave the abusive relationship.
The CEA talked to her about her relationship, the guilt she felt about wanting to leave and supported her as she came to her own decision to end it.
Alice, not her real name, has not been admitted to hospital in over 18 months, has found new friends and has hope for the future.
Mr Somers said the "hopelessness" of being on the streets was draining.
"People come home stressed from work and drink half a bottle of wine, so imagine someone who has the stress of being homeless and helpless," he added.
He said the treatment of drug and alcohol addiction had fallen "through a hole" at a time when the use of ketamine or new psychoactive substances such as Spice had "gone through the roof".
Mr Somers is calling for every community to have a fully staffed hostel service, with drug and alcohol workers and psychiatrists who could refer people to a rehab unit.
"Rehab gets about 25% of people clean," he said. "If you had 100 people go that is 25 of them out of the system. That requires a massive financial investment.
"I'm extremely pessimistic about the situation. I can see it reaching a crisis situation."
'Strong record'
Caroline Bernard, the head of policy at Homeless Link, which acts on behalf of organisations working with homeless people in England, said there was a need for "clever solutions".
"Cuts in funding for mainstream services mean people are ending up in A&E," she said.
A government spokeswoman said it had a "strong track record" on public health and prevention, with drug and alcohol abuse falling.
She added that local authorities were set to receive £16bn over the current spending period to reduce health inequalities.
The government says it is committed to halving rough sleeping by 2020 and eliminating it by 2027.
"We are investing £550m to 2020 to address the issue," the spokeswoman added.