Job stress is 'overwhelming' teachers across the UK
By Claire Brennan and George Henton
BBC News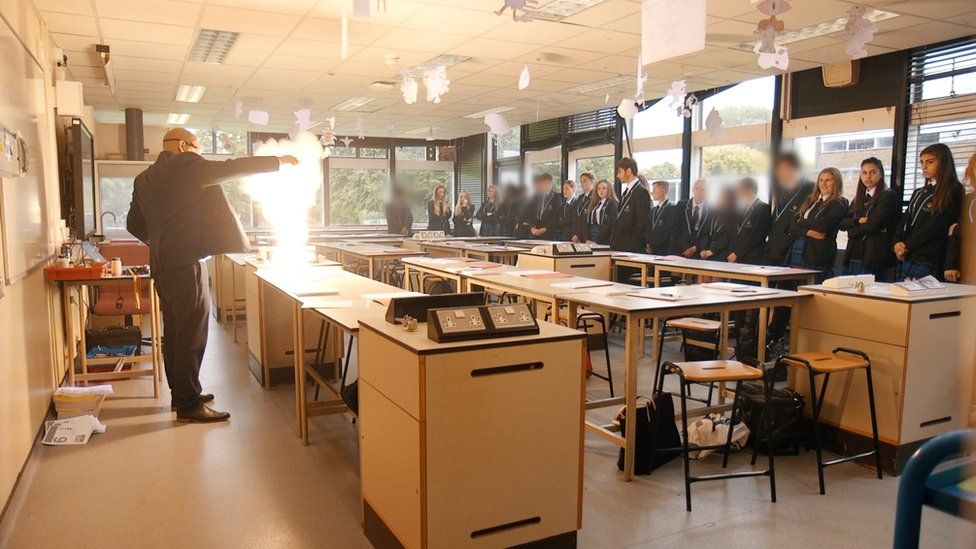 An overwhelming number of teachers in the UK have suffered either physically or mentally because of their jobs, a study has suggested.
The research, commissioned by the charity Education Support Partnership, indicated 75% of teaching staff in schools and colleges experienced symptoms stemming from their work.
Depression, anxiety and panic attacks were among the conditions cited.
The Department for Education said it was addressing issues raised by teachers.
Increasing levels of marking, admin and exam targets have led to some teachers working 12-hour days, according to Pran Patel, a physics teacher at Mark Hall Academy in Harlow.
"Teaching is the best job in the world and the reason for that is I change lives every single day and get paid for it.
"However, there are unnecessary challenges that are put on teachers day in, day out.
"The sheer amount of workload has had an impact on my mental health.
"I have suffered from bouts of depression, anxiety and sleeplessness. It's nothing I'm ashamed of. It's just an illness that affects many of us," he said.
The challenges posed by a career in teaching is having an impact on recruitment, said head teacher Sean Maher from Richard Challoner School in South-West London.
He said there were fewer people entering the profession and that central government was not doing enough to help.
"Quite frankly I think it's absolute nonsense when I hear government minsters go on news shows and say they're putting more money into education, there are more teachers than ever before.
"I don't know where they are getting these statistics from, but I speak to other colleagues who are head teachers and they are all panicking about whether they are going to be able to staff their schools and whether they'll have enough money to pay the teachers," he said.
For Emily Turner, a former primary school teacher in North London, the anxiety was too much. She left the profession after two years.
"It just started to become this cycle of me feeling like I wasn't teaching well enough because I was depressed and that was making me more depressed. It just continued to spiral.
"I have so much respect for people who have stayed in the profession for years and years and years. And are working at this pace - it just feels frantic and unsustainable.
"Anyone I talk to who has left has said it's the best decision they ever made, which is sad because I know those people cared about the kids a lot."
A Department for Education spokesperson said "teachers play a hugely important role in our society, and there are now more teachers in our schools than ever before.
"We are actively addressing the issues that teachers cite as reasons for leaving the profession, for example by supporting schools to reduce unnecessary workload.
"We also take teacher recruitment very seriously. As announced at the 2015 Spending Review, this includes investing £1.3bn up to 2020 to attract new teachers into the profession."
A total of 1,250 responses were received to the survey, carried out by Education Support Partnership and YouGov. All respondents were drawn from the YouGov panel of people who have signed up to undertake research.
The research will be featured in a report on BBC London's Inside Out programme on BBC1 on Monday 18 September at 19:30 BST.
Related Internet Links
The BBC is not responsible for the content of external sites.