White Helmets' motorbike riders perform final display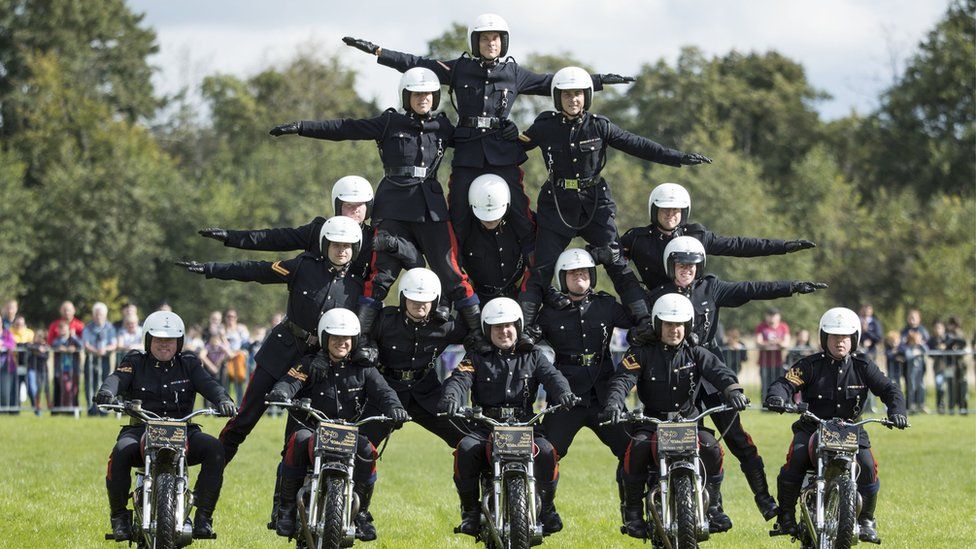 The British Army's motorcycle display team have performed in public for the last time after 90 years of stunts.
Known as the Royal Signals White Helmets, it highlighted the work of the corps since motorbikes were used to carry messages across battlefields.
The decision to disband the team, based in Dorset, is not financially motivated, an Army spokesman said.
He added that "motorcycles don't truly reflect the work of the modern signaller" in the digital age.
"The Royal Signals has come a very long way since those formative days using motorbikes to carry messages across the battlefield.
"In this digital age, the Corps uses cutting edge communications technology to carry out its vital work... with highly trained personnel at the helm operating it."
Spectators at the final display at the Preston Military Show included 101-year-old Walter Pritchard and Lewis Banham, 94, who were dispatch riders for the Royal Signals.
They were joined by former White Helmets' member Brian Iddon who said he was disappointed with the decision to disband.
The 80-year-old said his time with the team had been "brilliant", adding: "It's brought it all back for me here."
Current member Lance Corporal Dayne Ryan, from Skelmersdale, Lancashire, said it had been an "emotional day".
"It's been fantastic and unlike any other role in the Army.
"Before this part of my career I'd never really been interested in motorcycles or motorsport, it was just something I wanted to test myself at."
Related Internet Links
The BBC is not responsible for the content of external sites.