Pte Sean Benton inquest 'to probe Army bullying claims'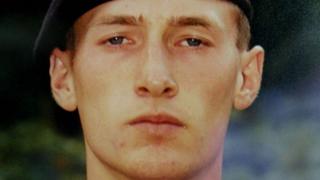 A fresh inquest into the death of a Sussex army recruit at Deepcut Barracks will consider wider claims of bullying by instructors at the base.
Allegations have been made against two of Pte Sean Benton's instructors - Sgt Andrew Gavaghan and Cpl Martin Holder.
At a pre-inquest hearing, Coroner Judge Peter Rook QC said claims about Sgt Gavaghan, who denies the allegations, could be admitted as evidence.
Pte Benton, 20, of Hastings, was found dead with five gunshot wounds in 1995.
His death was originally recorded as suicide, but a second inquest was ordered after a campaign by the family.
The soldier was the first of four young soldiers to die at the barracks between 1995 and 2002.
'Toxic environment'
The hearing was told the claims related to Sgt Gavaghan's behaviour towards other trainees.
Judge Rook said the evidence was "capable of being called on the important issue of whether Sgt Gavaghan did harass, bully or abuse Pte Benton, provided the evidence is of significant probative value."
Paul Greaney QC, barrister for Pte Benton's family, said criticisms would not be restricted to Sgt Gavaghan and Cpl Holder.
After the hearing, Pte Benton's sister, Tracy Lewis, said: "It won't be easy to listen to people give evidence about bullying and abuse - but it's so important to us to learn the truth about the toxic environment we fear Sean lived in.
"It's what our mum fought for 20 years for."
Represented by human rights group Liberty, Ms Lewis and Pte Benton's twin Tony Benton applied for a new hearing last year. Their mother Linda died in 2015.
Emma Norton, from Liberty, said: "It's enormously important for the family, the public and the British Army that all these matters are property and independently investigated."
The full inquest, expected to be held in January without a jury, is set to hear from about 150 witnesses.
---
The Deepcut Four
20-year-old Pte Sean Benton, from Hastings, was the first to be found dead in June 1995

18-year-old Pte Cheryl James, from Llangollen was found with a bullet wound to her forehead in November 1995

17-year-old Pte Geoff Gray, from Seaham, was found with two gunshot wounds to his head in 2001

17-year-old Pte James Collinson, from Perth, was found with a single gunshot wound through his chin while on guard duty in 2002
Who were the Deepcut four? Background to the deaths and timeline of events
---