Ship photographer's private collection to be auctioned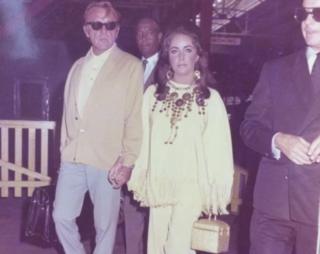 About 50 unseen celebrity photos including Hollywood stars Dame Elizabeth Taylor and Richard Burton will be auctioned.
The images including Bette Davis, Phil Silvers, Buster Keaton and comedy duo Morecambe and Wise were taken by photographer George Ruff who worked in first class on Cunard cruise ships.
Nephew Robert Vercesi said they had sat "in a drawer for 16 years".
Auctioneers have put a "conservative estimate of £350-£450" on the pictures.
They will go under the hammer in Etwall, Derbyshire, on 30 September, after the photographer's 72-year-old nephew, from Pelsall, Walsall, decided to sell them.
Hollywood actors Rosalind Russell, Robert Mitchum, Anthony Quinn, Victor Mature, Dorothy Lamour, Karl Malden and Deborah Kerr were among stars who took a shine to Mr Ruff, who worked on the ships for about 20 years from the 1950s, the auctioneers said.
Some celebrities penned him personal messages. Two images are of Dame Elizabeth and Burton on holiday on the QE2 walking hand in hand in 1970.
Mr Vercesi said stars liked his uncle because he was "such a big character and full of stories" and stated he had "been all over the world several times".
"He was in the Royal Military Police during the Second World War, helped to liberate a concentration camp and stayed on as an officer until 1947 to help capture Nazi war criminals," his nephew said.
"Until now, the collection has only been seen among members of our family... We thought it was time to share them."
The photos, which were taken to a free valuation day in Lichfield, formed "an exceptional private collection" featuring "some of the most famous faces the world has ever known", Hansons said.
Charles Hanson, of Hanson Auctioneers, said: "The photos capture the sophistication of an era long gone."
The photographer, who lived in Hove, near Brighton, and died just before his 80th birthday in 2001, also went on to become a bailiff, his nephew said.
He said: "We always said he was too nice to be a bailiff."