Criminal's film memorabilia worth £1.5m to be auctioned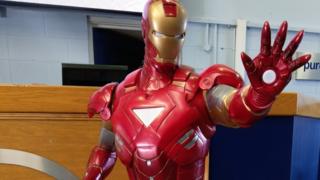 A Stormtrooper and life-size Iron Man model are among the items seized from a drugs lord behind a cannabis factory in a nuclear bunker.
More than 100 items, including luxury cars from films, owned by Martin Fillery are being sold having been seized under the Proceeds of Crime Act.
Aidan Larkin, from Wilsons Auctions, described the collection as an "Aladdin's cave of movie memorabilia".
Wiltshire Police said the collection was "unusual".
Wilsons Auctions said Fillery's collection had been valued at £1.5m.
Other items being auctioned include a Doctor Who Cyberman, a Willy Wonka figure depicting Gene Wilder from the 1971 film version, a Mini-Me from Austin Powers and an evil Mogwai from the Gremlins films.
One of the recognisable cars being sold is the screen-used BMW 6-series car from Back to the Future II, which was Biff's hovering car in the film.
The replica vehicles also include a 1966 replica Batboat, based on a Glaston powerboat, a Bluesmobile from the Blues Brothers films and a Monster truck style Hummer.
There is also a collection of kit cars, including a 25th anniversary Lamborghini Countach Replica and a McLaren F1 replica.
Asset recovery manager Mr Larkin said the collection had been "carefully curated over a number of decades".
"We believe the auction will appeal to a worldwide audience from the avid collector to the casual buyer, whether it's for a man-cave or a museum, there truly is something for everyone," he added.
Fillery, 45, of Ashcott near Bridgwater, was one of three men who were jailed in August for setting up the cannabis farm in a nuclear bunker near Chilmark, Wiltshire.
The gang produced £6m worth of drugs for more than three years without being detected. They also stole £650,000 worth of electricity from a nearby pylon to power the farm.
Everything is being sold without a reserve price at the Belfast auction on 26 October.