Ironing board and 'shark' left on South Western Railway trains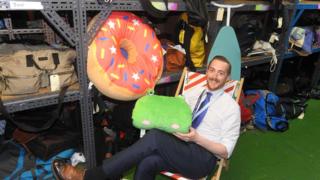 An inflatable shark and an ironing board were among more than 10,000 items left on trains during South Western Railway's (SWR) first six weeks.
The rail operator, which took over from South West Trains in August, has revealed the extent of lost property to encourage passengers to check their belongings before leaving their seats.
A barrister's wig, false teeth and a leather chair were also found, it said.
The company said the belongings were sent for storage at Waterloo.
All non-perishable items are kept by SWR for three months.
Michael Pugh, SWR's lost property manager, said 10,021 items had been recovered since 21 August.
He said the items most frequently left behind were umbrellas, coats, keys, railcards, glasses, phones, laptops, shopping bags, wallets and purses.
"Our staff from across the network work hard to ensure passengers are reunited with their belongings," he added.