Payout over Brighton Grand Hotel IRA bomb asbestos death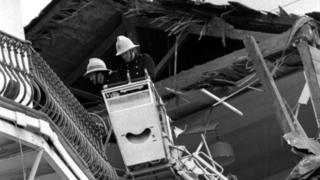 Two police forces have settled damages with the family of an officer who died after being exposed to asbestos when the IRA bombed Brighton's Grand Hotel during a Conservative Party conference.
Sussex Police has confirmed to the BBC a claim involving a former Met Police officer was settled in February.
Forensic officer Jonathan Woods was one of the first on the scene in 1984.
A police spokesman said the claim amount, split between the Sussex and London forces, had not been disclosed.
Last year, Sussex Police issued an alert to emergency workers who went to the bombing that they could have been exposed to asbestos.
It followed the death of Mr Woods months earlier.
'Sixth victim'
Conservative Party members were staying at the hotel during their October 1984 conference - five people died and 34 were injured in the attack aimed at Prime Minister Margaret Thatcher and her cabinet.
After the alert came from Sussex Police, lawyers for Mr Woods said he had spent 14 days sifting through dust and rubble by hand, looking for evidence.
They described him as the "sixth victim" of the bombing, following his death from mesothelioma.
Lawyers said Mr Woods had been accompanied by 14 other officers from the Met and 15 Sussex officers who would all, in theory, have suffered the same exposure.
Sussex Police made contact with and sent letters to 154 people, but said they have received no further legal claims.
Mr Woods's family and his legal representatives have not commented on the settlement.