Pregabalin: Spending on 'new valium' greater in north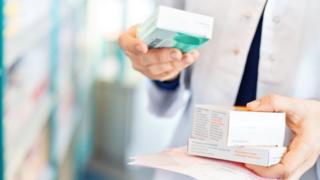 Prescribing rates for a valium-like drug linked to 111 deaths in a year vary widely across England, BBC analysis suggests.
Monthly spending on prescriptions containing pregabalin was 88% higher in the North East and 83% higher in the North West than in London.
Experts say there needs to be more research into why the disparities exist.
The Home Office intends to make the drug a Class C controlled substance.
GPs prescribe pregabalin to treat nerve pain, anxiety and epilepsy. But there are concerns it is being sold illegally to addicts and taken with other drugs such as heroin, leading to overdoes.
Analysis of open prescriptions data reveals:
GPs and other prescribers in the North East spent £569.94 per month for every 1,000 of their patients on pregabalin between August 2016 and July 2017.
In the same period doctors in London spent just £302.82 per 1,000 patients per month.
Between August 2013 and July 2014, spending on prescriptions was £316 per 1,000 patients per month. This rose to spending of £421 per 1,000 patients per month by 2016-17 according to an analysis of data from the NHS-funded OpenPrescribing.
There were fewer than half a million items prescribed in 2006, rising to more than 5.5 million by 2016, according to separate data from NHS Digital.
Roz Gittins, chief pharmacist of the charity Addaction, said: "There needs to be a better understanding of why these regional differences exist.
"And there needs to be a better awareness that pregablin is liable to misuse. This is an area where prescribers and pharmacy staff have to be particularly vigilant."
According to the Office for National Statistics there were 111 deaths in England and Wales in 2016 where pregablin was mentioned on the death certificate, up from four in 2012.
---
'They just totally destroy me'
Use of the drug, which has been compared to valium, has also grown significantly while the cost of prescribing it has dropped from about £100 a time to about £4. It has also ended up on the black market.
In a letter to the Home Office in 2016, Professor Les Iverson of the Advisory Council on the Misuse of Drugs (ACMD) said pregabalin had a high "abuse potential" due to its "rapid absorption and faster onset of action and higher potency".
He said it causes a high or elevated mood in users, with side effects including "chest pain, wheezing, vision changes and less commonly, hallucinations".
The letter also warned of another antiepileptic drug called gabapentin.
In September, Devon drug addict Martin Hopkins told the BBC's Inside Out South West how he took pregabalin with heroin.
"My drug of choice at the moment is pregabs and they just totally destroy me," he said. "It just makes me fall asleep."
---
Spending was highest in Knowsley in Merseyside in July 2017, the most recent month available. Pregabalin prescriptions cost £905 per 1,000 patients.
Mark Pilling, chief pharmacist with NHS Knowsley Clinical Commissioning Group, said: "The demographics of the Knowsley population are such that there are high rates of ill health including long term conditions and chronic pain.
"In particular, Knowsley has high rates of diabetes which often results in patients suffering from neuropathic pain and therefore in need of medications to treat this, such as Pregabalin."
He said guidelines were in place for prescribers to offer alternative treatments before pregabalin and that GPs were required to review patients who had been prescribed it to make sure it was effective and being used in the correct dose.
Patients suspected of misusing pregabalin are re-called for a review by their GP and if necessary referred to local drug misuse service.
The Home Office said it was carrying out a public consultation, but accepted the advisory council advice in principle.
When the drug is made a Class C substance it will be put in the same category as diazepam (the chemical name for valium) and GHB. People caught with Class C drugs without a prescription can face a fine and up to two years in prison while supply and production can mean 14 years in prison.
However, it will not stop the drug from being prescribed altogether.