Why are there so few gay people in the east of England?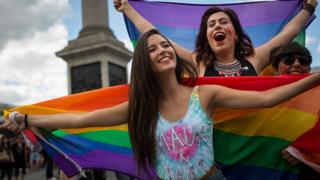 One in 33 people identify as gay, lesbian or bisexual in London, new statistics reveal. But in the east of England, the figure shrinks to just one in 100. Why the big difference?
In its analysis of the figures, the Office of National Statistics (ONS) puts the disparity down to age.
It cited the fact that the average age in London in 2016 was just under 35, while in the east of England - a region which spans Cambridgeshire, Norfolk, Suffolk, Bedfordshire, Hertfordshire and Essex - it was almost 42.
The conclusion one might draw is that younger people are more likely to come out, and therefore areas with more young people are more likely to have a higher proportion of lesbian, gay, bisexual and transgender (LGBT) residents.
But Essex Pride organiser Garry Ormes believes it's more to do with geography.
He said the reason for the region's small proportion of lesbian, gay and bisexual people is because it is "so close to London" - where many choose to move.
"There's that great appeal of London being the place to be," he said.
"It's much more of a thriving, multicultural community."
The 43-year-old, who came out as gay at 14, used to run Smiths gay bar in Chelmsford.
It closed two years ago, in part due to a rise of social media and a reduced need for venues catering specifically for gay people, he said.
"Before Facebook, the bar was really busy as that's where people used to go to socialise and meet people. But once social media took off, we saw a decline.
"Society is more accepting of the LGBT community now and there is less need for segregated gay pubs.
"People don't feel they need to go somewhere separate."
Human rights campaigner Peter Tatchell believes LGBT people tend to feel more comfortable being open about their sexuality in larger cities.
"[They] tend to migrate to cities where there are more LGBT people and venues," he said.
"Cities tend to be younger, more diverse and more liberal and these are the main reasons why larger cities will have a higher proportion of identified LGBT people.
"The fact that fewer LGBT people are coming out away from large cities is one of the reasons why Pride celebrations are increasingly being organised in small towns and rural areas."
Pride events in the east of England certainly draw crowds.
Essex Pride attracted 5,000 people over the summer, while Norwich Pride has hosted an annual LGBT celebration since 2009.
Colchester welcomed its first Pride event in August, which more than 2,600 people attended.
Why are London's gay bars disappearing?
In pictures: Pride in London through the years
Gender identity: What do legal changes have to do with women's rights?
Donna Whitbread, who is transgender, said events like Norwich Pride had been a positive step for the LGBT community.
The 31-year-old said: "I'm not sure if everyone is out and proud.
"But there seems to be a lot of LGBT here, there seems to be a huge transgender community.
"In the last year or so, I've really seen a difference with more male couples or female couples holding hands in the street.
"It's wonderful to see and I think Norwich Pride has really helped with that. It helps people feel safe and be themselves in the street."
The ONS reported a "statistically significant" rise in the proportion of people identifying as lesbian, gay or bisexual, equating to about one in 25 young people.
But Mr Tatchell warns the statistics only reflect what the 320,000 people surveyed were prepared to say.
Of those who responded, 4.6% of people fell into the "other", "don't know" or "refuse" boxes, compared with 2% who said they were lesbian, gay or bisexual.
"The figures are a significant underestimate and that's reflected by the numbers who answered either "other" or refused to say," he added.
The charity and campaign group Stonewall is reluctant to draw conclusions from the ONS figures but said it had long been the case that people feel more comfortable being out in a big city than they do in a smaller community.
"We're pleased to see more and more people feeling confident to declare their sexual orientation and gender in these exercises," a spokesman said.