Fresh rail strikes hit services across England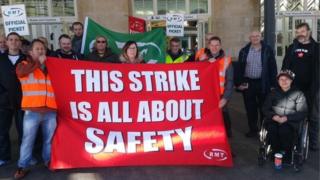 Train services have ended for the day in two companies affected by a second 24-hour strike by RMT members this week across England.
All services have finished on Arriva Rail North and all but one have ended on Merseyrail.
Both Southern and Greater Anglia said a lot of their services ran normally despite the 24-hour walkout.
Unions say the industrial action is over plans to make train doors driver-only operated.
Rail companies have said this means the guard's role will change but some workers believe safety procedures would be compromised.
Union members at South Western have also voted to strike, but any action first needs to be agreed with the executive body. The operator said it planned to increase numbers of drivers and guards and urged its staff to "avoid premature strike action".
The strikes have coincided with a planned closure of Liverpool Lime Street for refurbishment, something the boss of Merseyrail, Jan Chaudhry-van der Velde, said "doubled up the inconvenience".
Rail companies warned commuters that trains are running would be very busy and some beleaguered commuters chose to stay at home.
Transport Secretary Chris Grayling said: "There is no safety issue, on Northern they haven't even set out in detail plans for how the new trains are going to work.
"Merseyrail have bought new trains in the wake of a safety investigation that recommended they take this approach.
"I'm afraid leading figures of the RMT have made it clear they are in a political battle with the government and the passengers are pawns, and I feel desperately sorry for the passengers."
A Southern spokesman said: "Today will be the 36th day of RMT strikes and we, like our passengers and the vast majority of our colleagues, simply want an end to this unnecessary dispute."
Passenger services director Angie Doll added: "The RMT is striking about changes we made almost a year ago as part of our modernisation programme.
"Nobody has lost their job over this, in fact we employ more on-board staff to help passengers than we did before, and we are providing a better service with fewer cancelled trains."
Sharon Keith, regional director for Northern Rail, the operating name of Arriva Rail North, said she wanted to work with the unions.
"We're in the middle of a large modernisation agenda so we're investing in new trains [and] refurbished trains and what we want to do with our people is to modernise that role."
Jamie Burles, managing director of Greater Anglia, said all of the company's trains were operating "as promised".
He added: "Everywhere I've been all of our employees are working really well.
"The trains haven't all been on time because there's a couple of trees on the overhead lines but it's been been a good day with lots and lots of passengers."
'Genuine negotiations'
RMT general secretary Mick Cash said union members "stand solid, united and determined this morning in the latest phase of strike action".
"Political and public support is flooding in as our communities choose to stand by their guards against the financially and politically motivated drive to throw safety-critical staff off our trains," he added.
"Again this morning I am calling on Theresa May and Chris Grayling to call off the centrally imposed blockade on serious talks in these disputes and allow us to get on with genuine negotiations with their contractors."
The union claimed members of the public were put at risk after the doors on one of Greater Anglia's trains was opened on the wrong side by stand-in conductors during Tuesday's strike action.
It is understood the doors were incorrectly operated when the service arrived at Ipswich train station, but no passengers were hurt.
The RMT claimed the rail company was "using staff who have had a few days training rather than the four months required by the company's own standards".
But Greater Anglia said the stand-in staff had "safely operated over 500 services" and they had been "fully trained and had to pass safety, competency and medical tests".
Greater Anglia said a "full, normal service with no service alterations" was operating despite the industrial action.
Some routes operated by Southern will not run, and others will be a "limited service", running only at peak times.
Arriva Rail North says it will run a reduced service, and warned passengers the trains that do run are likely to be very busy.
Merseyrail is running reduced services and some stations will be closed.
Industrial action by London Underground drivers that would have coincided with the rail strike was called off following talks between management and the ASLEF union.