Yorkshire devolution delays: What's going on?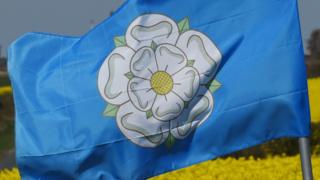 In 2015 the former chancellor George Osborne outlined plans to devolve powers, including housing, skills and transport, to English cities with directly elected mayors.
Since then people in places such as Greater Manchester, the West Midlands and Liverpool have had their say at the ballot box and, in turn, unlocked millions of pounds of government money.
Yorkshire, however, has singularly failed to take the next step on the road to devolution.
Despite putting forward several proposals just one has been approved by the government - the Sheffield City Region deal.
But, with that deal seemingly dead in the water, what does the future hold for devolution in Yorkshire?
Yorkshire Devolution Timeline:
May 2015: George Osborne outlines plans to devolve powers to English cities
Sept 2015: Five Yorkshire based devolution bids submitted to government
Oct 2015: Mr Osborne signs agreement with leaders of the Sheffield City Region to devolve powers and install directly elected mayor
May 2017: Directly elected mayors appointed for Greater Manchester, the West of England, Tees Valley, Cambridgeshire and Peterborough, Liverpool City Region and the West Midlands
Aug 2017: "Coalition of the willing" announces 'One Yorkshire' deal has backing of 17 of 20 councils in Yorkshire
Sept 2017: Barnsley and Doncaster council leaders vote against Sheffield City Region deal but Communities Secretary Sajid Javid rules out pan-Yorkshire deal involving South Yorkshire councils
Oct 2017: Archbishop of York asked to step in to break devolution stalemate as Northern Powerhouse Minister Jake Berry reiterates government stance
What are the proposals?
Across the UK 38 devolution bids were submitted for government consideration in September 2015, including five from across Yorkshire. A sixth proposal - One Yorkshire - was put forward in August 2017.
Sheffield City Region: Backed by Sheffield, Rotherham, Barnsley and Doncaster
Greater Yorkshire: Backed by Bradford, Calderdale, Craven, City of York, East Yorkshire, Hambleton, Harrogate, Hull, Kirklees, North Yorkshire, Leeds, Richmondshire, Ryedale, Scarborough, Selby and Wakefield.
Hull, Yorkshire, Leeds City Region and the Northern Powerhouse: Submitted by Hull City Council
Leeds City Region: Backed by Bradford, Calderdale, Kirklees, Leeds and Wakefield as well as Craven, Harrogate, Selby and the York
York, North Yorkshire and East Riding: Backed by City of York, North Yorkshire, East Riding of Yorkshire, Selby, Harrogate, Craven, Richmondshire Hambleton, Ryedale and Scarborough
One Yorkshire: Backed by 17 of Yorkshire's 20 councils. Sheffield, Rotherham and Wakefield not involved.
What is happening?
The only deal to have been agreed with government to date, the Sheffield City Region deal, was signed off by former Chancellor George Osborne in October 2015.
Under the agreement an elected mayor would be given control of transport, strategic planning and skills as well as £900m of funding over 30 years.
Initially involving nine local authorities across South Yorkshire, North Derbyshire and North Nottinghamshire the deal was later amended to Barnsley, Doncaster, Rotherham and Sheffield following a legal dispute.
However, the deal was thrown in to disarray when the leaders of Barnsley and Doncaster withdrew their support and gave their backing to the One Yorkshire bid.
The One Yorkshire proposal, first outlined on 1 August - Yorkshire Day - initially had the backing of 17 of the 20 local authorities in Yorkshire, though that is thought to have reduced.
Despite the support for the pan-Yorkshire bid it has so far been rejected by the government, with ministers going as far as saying a directly elected mayor of South Yorkshire will be appointed in 2018 despite the post currently having no powers
What do people want to happen?
The issue of devolution in Yorkshire has not only divided the council leaders but has also split opinion across the board.
In August more than 150 business leaders in South Yorkshire wrote to the leaders of the Sheffield City Region bid urging them to "push ahead" with the £900m devolution deal first tabled in 2015.
However, the Northern Powerhouse Partnership, chaired by George Osborne, said it sees "no value" in a mayoral election in South Yorkshire and has encouraged the government to explore all options.
Director Henri Murison said: "There can be no options off the table, as this is the key missing piece in the Northern Powerhouse as far as devolution is concerned."
On the other hand economics think tank Centre for Cities has argued metro mayors in cities like Leeds and Sheffield will have a greater impact than a regional mayor.
Chief executive Andrew Carter said: "There is a danger that the crucial economic role of these cities would be lost in a Yorkshire-wide devolution deal,
"National and local leaders need to focus on securing similar deals for Yorkshire's great cities, otherwise these places - and the people who live in and around them - could fall behind in the years to come."
What could be achieved?
Six metro mayors were appointed in May 2017, each handed devolved powers and a pot of government money that they have used in differing ways to date.
Across the Pennines, Greater Manchester elected former MP Andy Burnham.
Within four days of being elected he set up a fund to tackle homelessness, even pledging 15% of his £110,000 salary towards it.
In Liverpool Steve Rotherham has campaigned heavily for HS3 - a high speed rail link connecting Liverpool, Manchester and Hull - and has met with Brexit secretary David Davis.
Meanwhile, the mayor of the Tees Valley, Ben Houchen, has suggested he hopes to take control of Durham Tees Valley Airport and has launched a campaign to secure Protected Designation of Origin status for Teesside's "world-famous" parmo - a piece of chicken or pork in breadcrumbs which is then deep fried and covered in bechamel sauce and cheese.
What does the future hold?
During a debate held in the House of Commons on Tuesday, Northern Powerhouse minister Jake Berry insisted the government is not prepared to entertain a Yorkshire-wide devolution deal involving any of the South Yorkshire councils.
He added that the Conservative Party was already in the process of selecting a candidate to contest the Sheffield City Region mayoral election in May.
Meanwhile, it emerged that Labour's John Grogan has approached the Archbishop of York, Dr John Sentamu, in a bid to break the deadlock in the White Rose county.
Yorkshire
Has a population of more than 5.3m people
It is divided into a number of different councils across North Yorkshire, South Yorkshire, West Yorkshire and East Riding of Yorkshire
Leeds is the largest city in Yorkshire with a population of about 775,000, followed by about 570,000 in Sheffield and Bradford with about 530,00
There are eight cities in the county with more than 100,000 people
Source: Country digest