BBC One Ambulance stars on dealing with life and death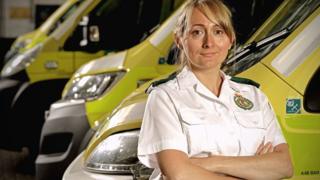 For eight weeks, BBC One series Ambulance has shone a light on the day-to-day work of West Midlands Ambulance Service. Here, some of the show's most recognisable faces talk about life on the front line.
"You are delivering a baby one minute and trying to start someone's heart the next," says paramedic Natalie Greaves.
"You never get two days the same which is why I love the job so much.
"You can go home thinking 'I don't know whether I can do this' when you see something upsetting, but then the next job may be different and you have got somebody saying 'where would they be without you?'"
Mrs Greaves, from Stourbridge, retrained as a paramedic aged 34, having worked in care.
Her own experience of the ambulance service, which cared for her disabled daughter Jessica, prompted the career change.
Now 39, the mother-of-three said she was inspired by the treatment of her "barely breathing" daughter to "give something back".
She proved an instant hit from the first episode, where viewers watched as she helped deliver baby George during a particularly difficult birth.
But some jobs can be more upsetting, Mrs Greaves said.
"You see so much sadness in our job."
She recalls one of her hardest jobs: responding to a call of a 17-year-old girl who went into cardiac arrest and later died.
"[Her] mother thought she had just got a cold," she says. "Within an hour her world had changed.
"I've got a 17-year-old myself and I remember thinking, how can one minute you have your child getting up for college and the next they're not getting up anymore?
"I found that hard.
"It's hard to process lives totally destroyed in a matter of minutes, and I will never get used to that.
"You learn how to deal with it, but it's not something you get used to or hardened to, because if that becomes the case, it's time to not be a paramedic."
---
'Not built for normal jobs'
"Last Christmas Eve I went to a horrible job," said Darren Neeld.
He was called out to a 29-year-old woman.
"We turned up to her and she appeared dead, she was freezing and had stopped taking her insulin," he said.
The patient had gone into a condition called diabetic ketoacidosis. She later died, leaving four children.
"It really hit home."
Formerly in the RAF, Mr Neeld, 31, wanted to join the ambulance service as he was "never built for normal jobs".
He spoke to staff at the ambulance station in Solihull, close to where he used to live, before signing up to a course at Staffordshire University and qualifying in 2015.
The job can be "daunting", he admitted, but said the show has opened up the public's eyes to the work paramedics do.
"People always say they don't realise how much we deal with. It's starting to bring [it] home, we don't just turn up, put people in the ambulance and go.
"It's not just about going to hospital, it's about getting the right care for the right patients.
"It's not an easy job and unfortunately if you can't do anything you are the ones that have to break the news to a family, so it can be upsetting, especially when you have to tell a family nothing can be done," he added.
---
'Helping is a privilege'
Mick Johnson, 72, had a relatively late start, joining the ambulance service 23 years ago, but describes it as the "best job I've ever had".
So much so, in fact, he returned to work part-time after retiring eight years ago.
The job is much more than patching people up or taking them to hospital, he said.
"Some people, that's all they need - a cup of tea, a bit of company, they are on their own the rest of the time," he said.
And rather than be a barrier, his age helps play a part in his ease with patients and relatives, who "tend to listen to me more".
"The beauty of the job is that every day is different, every job is different," he said.
But above all, being able to help others, he added, is a "privilege".
The final episode of the second series of Ambulance airs on BBC One on Thursday 12 October at 21:00 BST and is available on iPlayer.