Gloucestershire and Oxfordshire councils set up firm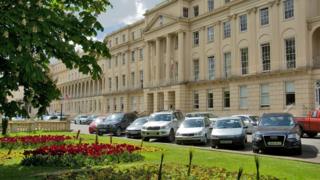 About 600 workers are being shifted to a new firm created by four local councils in a plan to share services and operational costs.
Publica Ltd will be owned by Cheltenham, Forest of Dean, Cotswold and West Oxfordshire councils.
Cabinet member at West Oxfordshire, Colin Dingwall, said: "The company can start to sell its services to other councils so we can create income."
Critics of the new firm say it lacks transparency and accountability.
'Uncertainty and anxiety'
The Liberal Democrats at Cotswold District Council have called for a public meeting about the plan.
Councillor Joe Harris said: "We appreciate that money is tight and we need to find innovative ways of saving money."
But he added there are concerns about "the morale of the staff".
He said when councils shared services in the past it had also led to a reduced level of service, with increased waiting times.
The firm will be up and running by the end of October with staff beginning to move in November.
Councillor Mark Annett, the Cotswold District Council leader, said he was "confident" that the "shared experience and expertise this brings" would benefit the four authorities.
The councils believe the move will eventually save them some £1.9m a year.
Current staff will retain their benefits such as a local government pension, but new staff will not be offered one, which the Unison union says will create a "two-tier workforce".
Jayne Jackson from Unison said: "There is a lot of uncertainty and anxiety because of the change coming up."