Arriva North West bus strike: What you need to know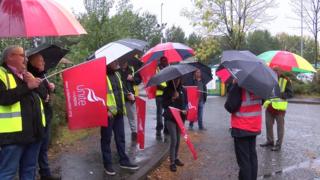 More than 2,000 Arriva North West bus drivers and engineering staff are taking industrial action in protest over "pitiful" pay offers.
Members of the Unite and GMB unions are involved in the 24-hour strike which began at 03:30 BST and will continue until Friday.
It is the first of three planned days of action, with further walkouts scheduled for Arriva on 23 and 30 October.
Arriva said its pay offer was "fair".
Talks broke down last week after the company's latest pay increase offer of 31 pence per hour was rejected by a joint union ballot.
GMB said this was a "real terms pay cut" after inflation hit 3%.
Unite said it wanted an "equitable pay award" across all depots and for Arriva to tackle wage inequalities of up to £1.73 an hour between bases.
Arriva North West said it wanted to wholeheartedly apologise to customers for the "unnecessary" strike.
What will be running?
There will be no planned Arriva bus services operating within Merseyside, Greater Manchester, Lancashire and Cheshire except for:
Services operating out of the Chester depot: 1, 1A, 15, 15A, DB1, DB2, DB4, 3, 3A, 4, 4A, 10, 10A, 82
Services coming into Chester from Wrexham and Rhyl
Arriva tickets will be accepted on Stagecoach services including: 10A, 14, 53, 82, 86, 471 and 472.
What can I do?
Roads, tram and rail services are expected to be busier than usual.
Check the Arriva website or Twitter before you travel for the most up to date information.
If you have a pre-paid ticket in Merseyside you can use it on the Merseyrail network except for:
Journeys between Liverpool Central and Liverpool South Parkway between 07:00 and 09:00 and 16:00 and 18:00. Check here for route options.
For details of times and other bus and travel services visit Merseytravel or Transport for Greater Manchester.
What about using the roads or railways?
If you are planning to drive around the North West on strike days, be aware of these roadworks that may affect your journey:
M56 Westbound -One lane closed between junction 15 and A494 Chester between 20:00 and 05:00 from 18- 20 October
M56 Eastbound -Three lanes closed between junctions 5 and 3 between 22:00 and 05:00 from 18 October to 6 November
M61 Northbound - Entry slip lanes closed at junction 5 between 21:00 and 05:00 from 18 to 20 October
M55 Eastbound - Two lanes closed at junction 1 because of emergency barrier repairs from 20:30 on 19 October to 04:00 on 20 October
Ongoing public transport works include:
Liverpool Lime Street - No service on East Midlands, London Midland, Transpennine Express and Virgin Trains West Coast at Liverpool Lime Street due to engineering works
Wigan bus station - Closed for major redevelopment at Hallgate in Wigan
Are further negotiations likely?
Further strikes are planned for 23 and 30 October.
Unite regional officer Neil Clarke said: "All we are seeking is a fair and reasonable pay award against a backdrop of spiralling inflation and soaring living costs.
"Our members are fed up with pitiful pay offers and Arriva's 'pick and mix' approach to wages where some depots get a pay rise and others don't.
"This has resulted in wage inequality across a number of depots and is in stark contrast to the company's claim to be an industry leader in the treatment of its workforce."
Phil Stone, managing director for Arriva North West, said it was "disappointing" after two improved offers the unions were "proceeding with disruptive strike action" adding that any pay increase must be "sustainable" for the business.
"We are urging our trade union colleagues to reconsider their position and get back round the negotiating table and call off the strike action that will unnecessarily disrupt many thousands of passengers," he added.
Eddie Parker, GMB regional secretary, said commuters should be aware of "potential traffic chaos".
"No-one wants to go on strike and our members are taking industrial action as a last resort," he said.
Let us know how the strike affects you. You can contact us on Twitter @BBCNWT.