Family row over brain-damaged mum's care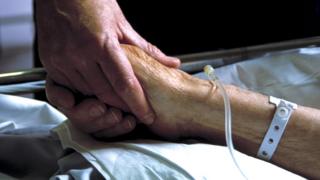 A judge has been asked to settle a family row over whether the feeding of a brain-damaged woman should continue.
The woman, identified as Mrs P, was "minimally conscious" after a fall in 2016, a court sitting in Preston heard.
Her partner and daughters believe artificial feeding was not in her best interests, arguing that she was "frightened of being like this".
However, her sisters believe she could improve and told the court withdrawing nutrition would be "legalised killing".
Salford Royal NHS Foundation Trust has applied to continue providing clinical treatment and transfer Mrs P, who is aged in her 70s, to a specialist nursing home in northern England.
The court heard the life expectancy of patients in Mrs P's position was, on average, five years if the artificial feed was maintained.
'Fiercely independent'
However, the Court of Protection hearing was told Mrs P sent an email to one of her daughters nearly four years before her fall, in which she wrote about her fear of being left in such a condition.
She wrote that a documentary on dementia had "made me think of dad and what a travesty of life his last years were", adding: "I'm still haunted by how he ended up... Get the pillow ready if I get that way?"
One of her daughters said Mrs P had been "fiercely independent", but was now "there physically but not mentally".
"She was not frightened of death... she was frightened of being like this, about how she is," she said.
Mrs P's youngest daughter told the court she would be "horrified" about her present situation and would "hate" the "indignity of not being able to move, to go to the toilet, to keep herself clean".
'Helpless'
Mrs P's three sisters have argued that an artificial feed should be maintained to see whether she might improve further, with one of them arguing that the medical profession should be the judge of what treatment was provided.
Two expert witnesses told the court there would be no further change in Mrs P's underlying neurological state, but they differed on whether nutrition and hydration should continue.
One said Mrs P did show pleasure and engage with staff at times, while the other said she showed evidence of distress and not wishing to engage socially.
A friend of Mrs P for more than 40 years told the court on Wednesday she "was a very proud and discreet person".
Mr Justice Hayden said he would deliver his judgment in the three-day hearing at a later date.