Little troopers: Calendar captures emotional reunions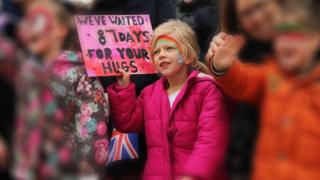 Emotional farewells and reunions between children and their armed forces parents are captured in a fundraising calendar to support military families.
The Little Troopers charity hopes to raise money to support 120,000 children who have serving parents.
Founder Louise Fetigan said sharing the pictures was a "great privilege".
One photo shows eight-year-old Heidi Curry, from Derbyshire, holding a placard which reads: "We've waited 87 days for your hugs."
Her father, warrant officer Paul Curry, 40, serving with the Royal Navy, said it was a "special" picture - it followed his final deployment after 22 years service.
Jodie Cotton, mother of 16-month-old Romeo, said they were "over the moon" about being picked for the front cover of the calendar.
In their photograph her son is seen at an air show display.
His father, Luke Cotton, 28, is an avionics aircraft technician based at RAF Fairford in Gloucestershire.
"Romeo was enjoying the air show displays and loved getting up close and personal with the aircraft on the ground and meeting the aircrew," Mrs Cotton said.
"He was smaller than the barriers, so kept attempting to climb aboard."
October's photo shows three-year-old Kodi waving goodbye to his father Grant Black, who is serving with HMS Duncan, Portsmouth and had set off for a three-month deployment in June.
The toddler's mother, Felicia Black, said the photo showed an emotional time.
"Kodi was upset following the send-off," she said. "It [had] sunk in that he'd not see daddy for a while."
The Surrey-based charity's 2018 calendar is the sixth it has put together.
Ms Fetigan said: "The pictures show many of the emotions experienced by a military family and some very cute babies showing their pride for their mum or dad's work.
"We are lucky to share some very special moments with our beneficiary families through these images."