Ghostwatch: The BBC spoof that duped a nation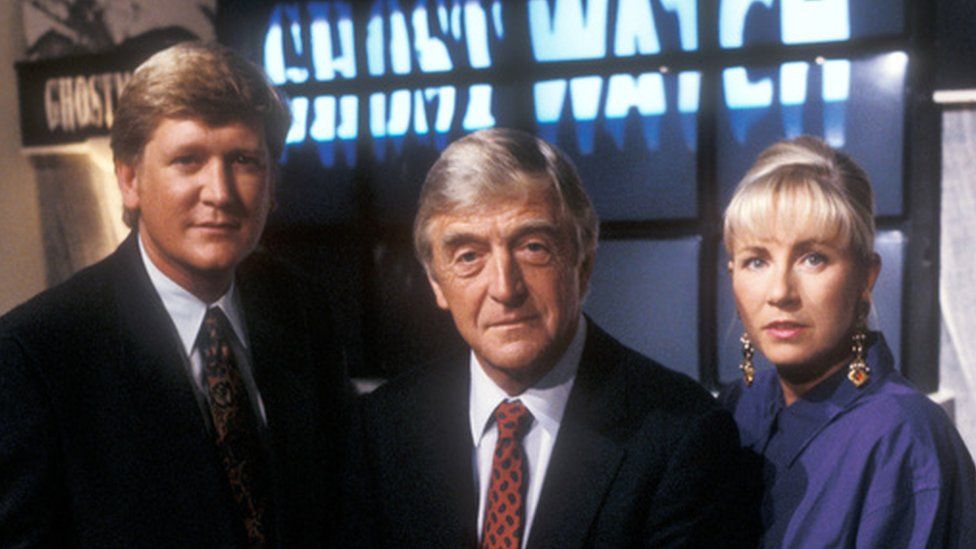 It was billed as a drama, but many of Ghostwatch's 11 million viewers were taken in by the BBC's fake investigation, which in one tragic case led to a teenager taking his own life. On its 25th anniversary, his parents and the creator of the show talk about its impact.
It's Halloween night in 1992, and families across the UK are excitedly huddled around the television.
Saturday night TV is at its peak - Gladiators has just premiered on ITV, Casualty is enjoying its seventh series and Noel's House Party is pulling in 15 million viewers a week.
But tonight's big draw is the BBC's heavily-promoted Ghostwatch, a supposedly "live" investigation into paranormal activity being recorded at a family home in Northolt, north-west London.
The programme was the brainchild of horror writer Stephen Volk, who had originally conceived it as a spooky six-part drama, but who was instead asked by producer Ruth Baumgarten to create a 90-minute ghost story for the broadcaster's Screen One series.
"I said to her, 'why don't we do it instead as an investigation, a mystery story - pretending it's a live transmission from a haunted house?'," Volk recalls.
"I remember that moment very clearly, when she was really excited by that."
Volk's idea was arguably visionary, years ahead of today's scripted reality TV shows, where the likes of The Only Way Is Essex routinely blur fact and fiction.
The script went through numerous rewrites as TV executives continued to be confused by the concept.
"There was a lot of head-scratching and puzzlement when Baumgarten had meetings with people trying to explain what we were trying to do," he remembers.
"They didn't get it when they read it, why it was written in this peculiar way. They didn't understand how it was going to work."
The team wanted to push the boundaries of reality even further. They didn't want it fronted by conventional actors - they wanted familiar and friendly TV personalities to bring the story to life.
Michael Parkinson, one of the BBC's most trusted faces, was asked to present it. Alongside him was popular children's television presenter Sarah Greene, together with her husband, TV and radio host Mike Smith - a fact Volk calls a "happy accident".
"It was offered to Sarah [initially] and Mike - I think - happened to read it over her shoulder and said "can I be in it [too]?'
"I quickly thought, 'this is a real bonus'," says Volk.
It was groundbreaking television in many ways - from the infra-red, heat-seeking camera used to "spot" ghostly activity to the pixellation of an interviewee's face.
They also used videotape, instead of the typical 16mm film, to make it look more homemade.
Though the production team wanted it to look realistic, shortly before its transmission the programme featured on the cover of the Radio Times, inside which it was explained it was a drama.
But not everyone read the Radio Times. And when Ghostwatch aired at 21:25 GMT, there were consequences the corporation had not foreseen.
In Nottingham, April and Percy Denham were sitting down to watch the programme together with their sons, Martin 18, and Gavin, 14.
The pair recalled how their elder son became more and more agitated throughout the broadcast.
"He sort of curled up while watching it. We asked if he was alright, but he seemed hypnotised by it," says Mrs Denham.
Ghostwatch's viewers were invited into "the most haunted house in Britain", where Pamela Early and her two daughters were being spooked by a poltergeist.
The nation was told a team of researchers had spent the last 10 months investigating the mysterious movements of a ghost named Pipes - so-called because it kept banging on the water pipes.
In the studio, Parkinson urged viewers to phone in with their own ghost stories on 081 811 8181 - the standard number for BBC phone-ins at the time, used on shows including Crimewatch and Going Live!
As Greene followed the paranormal activity around the house, the tension mounted and the Early family were subjected to increasingly terrifying experiences as the spirit of a dead man apparently entered the children.
By the end of the show the ghost had "seized control" of the TV cameras. At the Early's house, paramedics and police were seen arriving, and Greene, who was trying to locate one of the possessed girls, disappeared into the blackness.
Back in the studio, the floor was deserted apart from a dumbfounded Parkinson.
But behind the scenes, the Ghostwatch production team were enjoying celebratory drinks as the programme aired.
"Ruth [Baumgarten] arrived with a white face and said the switchboard had been jammed at the BBC," Volk says.
"I kind of laughed lightly and she said very seriously, 'no, they really are jammed with people very irate'.
"That was a bit of a 'gulp' moment."
More than 20,000 people had tried to get through to Parkinson at one point during the programme.
Many of the viewers were children, who had been left traumatised by what they thought they had witnessed.
"I think three women who were pregnant went into labour that evening," says Volk.
"A vicar phoned in to complain that even though he realised it wasn't real he thought the BBC had raised demonic forces.
"It was partly that it scared people, but the complaints were actually more that the BBC had made them feel like mugs.
"People felt the BBC was something they could trust, and the programme had destroyed that trust."
In its wake, a tide of anger rose against the BBC, which received thousands of complaints.
Meanwhile, in the days that followed the broadcast, the Denhams noticed a change in Martin.
The radiators in their house had a habit of being noisy when warming up and Martin suddenly asked to move bedrooms, though he never explained why.
"He seemed entranced with the talk of ghosts," Mrs Denham remembers.
"He seemed a bit upset because things were happening at that time in the house that had been happening [on Ghostwatch]. The pipes were banging," his stepfather adds.
Five days after the broadcast, Martin killed himself. A note in his pocket, addressed to his mother, read: "If there is ghosts I will now be one and I will always be with you as one".
The Denhams learned of his death when police came to their places of work.
"I went crackers," Mr Denham says. "I started swearing. When I heard about the [contents of] the note, I knew it was that programme."
A judicial review the Denhams fought for led to an investigation by the Broadcasting Standards Commission, which concluded the corporation had "a duty to do more than simply hint at the deception it was practising on the audience".
There had been a "deliberate attempt to cultivate a sense of menace", it added, and the BBC issued an apology.
The passage of time has seen the Denhams's anger cool a little, although they do not watch BBC channels, or anything that features Michael Parkinson.
"There's nothing you can do. I've just let it go now, but it's still there," Martin's stepfather adds.
"It's still just one big mystery and he isn't here so I'm not able to ask him," Mrs Denham says.
"Martin was happy. He had never had any problems - he had got a girlfriend and a job and had got everything to live for.
"Even though he was a slow learner he had done well for himself. He had everything going for him and then it changed just like that."
Volk declined to comment on Martin's death out of respect for the family.
But he says he had expected a very different reaction from viewers.
"I think it was 11 million that saw it and you can't think of all those people as individuals," he says.
"I was, I guess, writing for myself - aged between 12 and 14 - and I thought of myself watching and thinking, 'well this is interesting, I don't believe it, but I get that this is a drama done in a certain way'.
"That's the basis on which I thought most people would [see] it.
"There was a vast span of different reactions to it, from people who didn't believe it for a second and people who believed it all the way through, and everything in between."
The aftermath meant the BBC distanced itself from Ghostwatch.
Volk says he would have liked to have explained his intentions as a writer with the broadcaster far sooner than the anniversary DVD a decade later allowed.
"I think if the BBC had maybe not shut it down so completely, there might have been an attempt to have a conversation about it," he says.
However, when 12-year-old viewers who saw it the first time revisited it 10 years later - in conjunction with the emergence of the internet - people openly started to discuss the programme.
"Suddenly we found a whole pile of people who did like it, they enjoyed it, thought it was challenging and all the things we wanted it to be," Volk says.
He remains proud of Ghostwatch, the first project he did for television.
Volk went on to write an episode of Ghosts for the BBC in 1995, created ITV series Afterlife starring Andrew Lincoln and Lesley Sharp, and was also behind the 2011 film The Awakening.
"The best result [was] people coming up and saying 'I had to sleep with the light on for three weeks but it got me into film-making' and some have said 'it got me into horror'," he says.
However, he tends to agree with acclaimed author Ramsay Campbell on pushing the genre's boundaries.
"I'm a great believer in what he said about horror, and that is that horror is sometimes the business that goes too far."
Additional reporting by Lisa Wright