England mayors call for more tax control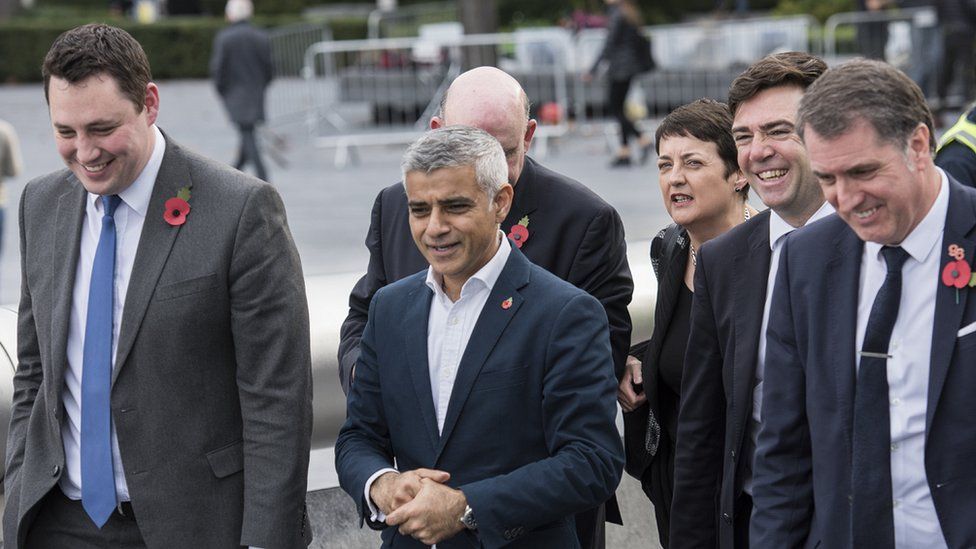 England's regions should be given more control over taxes instead of relying on government grants, its elected mayors have said.
At their first summit, they said the UK was "one of the most centralised states in the western world".
London mayor Sadiq Khan said more regional power was "the best way to secure ongoing prosperity".
Wednesday's summit at City Hall in London was the first meeting between all of England's elected regional mayors.
Mr Khan, became London mayor in 2016, but the other the six were elected in May as part of government plans to transfer more controls from Westminster to regions across England.
In a joint statement, they called for a "significant increase in fiscal devolution, with regions given greater control over existing taxes and the revenues they create, rather than having to rely on government grants".
Analysis: Nina Warhurst, BBC North West Political Editor
They almost skipped out of City Hall, looking like a new gang of friends on the first day of school.
Six months after most of them were elected, there is an optimism and confidence to the regional mayors.
Four are Conservative, three are Labour, but party colours were irrelevant. All agree that the devolution ball is rolling, but not quickly enough.
"Is devolution really devolution when there are constraints on how we spend our budgets?" asked Steve Rotheram, Labour Mayor of the Liverpool City Region.
Andy Street the Conservative West Midlands Mayor, said: "The government needs to go further now. We need the tools to tackle the challenges and seize the opportunities. We have proved our worth."
And they have proved it. Joint pressure on transport certainly contributed to Northern Powerhouse rail returning to the agenda at the Conservative Party Conference.
They are getting noisier and their ideas more radical. The end game is devolution of key budgets like pensions and benefits. Andy Burnham, Mayor of Greater Manchester, tells me he's a realist - but an ambitious one: "We know fiscal devolution isn't going to happen overnight. But we get noisier until it does."
But how loud? And who's listening? Even if they hear them in Whitehall, will they be brave enough to give them what they want?
Call for 'real influence'
The leaders - four Conservative and three Labour - said more regional powers would "give cities the tools... to increase growth and job creation".
They also called for "real influence over programmes designed to help people get back to work".
Earlier this week, Liverpool City Region mayor Steve Rotheram called for powers to control the Universal Credit benefit after critics said its reforms were causing hardship.
The scale of devolution should be increased to "unlock future growth", the mayors said.
They said their regions, in total, produced nearly 39% of all British growth - compared to 35% in 1997.
Mr Khan said: "Many of the most dynamic and prosperous cities and regions in other countries have mayors with substantial powers and funding, and it is high time we followed suit."
Greater Manchester mayor Andy Burnham added that Brexit meant it was "vital that people here have the right skills to get on in life and drive our economy".
James Palmer, mayor of Cambridgeshire and Peterborough, said: "For too long power has been overly centralised in this country... The achievement of creating seven new mayors needs to be built on through further devolution."
Sadiq Khan - London - Labour
Andy Street - West Midlands - Conservative
Andy Burnham - Greater Manchester - Labour
Tim Bowles - West of England - Conservative
Steve Rotheram - Liverpool City Region - Labour
Ben Houchen - Tees Valley Combined Authority - Conservative
James Palmer - Cambridgeshire and Peterborough - Conservative
A government spokesman said it was making "huge strides" to rebalance the economy and "empower" local government.
"We have worked closely with local leaders, agreeing six devolution deals and injecting £4.8 billion into their local economies. We are currently in discussion with the six newly-elected metro mayors to understand the areas where they would like to undertake further devolution," the spokesman added.
Related Internet Links
The BBC is not responsible for the content of external sites.