Woman seeks private rape prosecution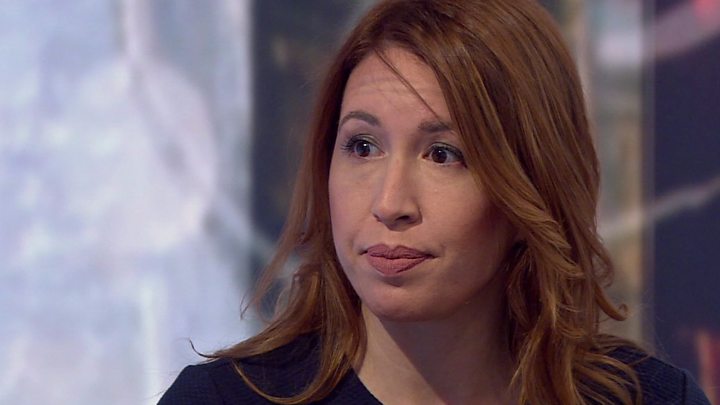 A woman seeking what is thought to be the UK's first crowdfunded private rape prosecution says she hopes to lead the way for those "let down" by the courts.
Emily Hunt from London, claims she was drugged and raped in 2015.
Police investigated, but the Crown Prosecution Service (CPS) felt there was insufficient evidence to proceed with a case.
Ms Hunt has hired a barrister who believes there are grounds for a criminal prosecution.
'Filmed her naked'
Ms Hunt - who has waived her right to anonymity - told the BBC's Victoria Derbyshire programme on the day of the alleged rape she woke up "completely naked" at 22:00 in a hotel room next to a man she had "never seen".
Her last memory of that day was between 16:00 and 17:00, she said, when she had been having a meal with her father.
When she "finally came to", she added, she had a "light-bulb moment" that she had been drugged.
"I'd never felt like that before. I'd lost five hours of my life and wound up somewhere where I didn't know how I got there."
She said she hid in the bathroom and phoned a friend, who rang the police.
With no memory of the encounter Ms Hunt was not aware they had had sex until police informed her they had found used condoms in the hotel room.
The man told police they had had sex but insisted it was consensual.
Ms Hunt believes it was rape as she would not have been in a state to consent.
Police told her the man had also "filmed her naked and unconscious on the bed" and carried out a sex act over her body.
Toxicology report 'flawed'
The police referred her case to the CPS, who upon reviewing CCTV footage and toxicology tests decided there was not enough evidence to proceed.
CCTV footage of Ms Hunt and the man showed them kissing and holding hands as they walked to the hotel after leaving a bar.
Toxicology tests, taken almost nine hours after her last memory, showed Ms Hunt was at least two times over the drink drive limit, but came back negative for any signs of the date rape drug GHB.
Ms Hunt believes the toxicology report was "flawed", and that CCTV footage - which she said showed her unable to stand without support - demonstrated how she could not have been in a position to give consent.
'Thorough investigation'
She estimated the cost of a potential private rape prosecution to be £50,000 - a sum she is hoping to crowdfund.
"It is an amazing thing that we as individuals can bring a criminal charge in a case where the system has let us down, that can result in a rapist going to jail," she said.
The Metropolitan Police said it "carried out a thorough investigation following [Ms Hunt's] allegations" and "will always provide support to anyone who reports a serious sexual offence".
Ms Hunt's complaints over its investigation were "independently reviewed by the IPCC and not upheld", it continued.
The CPS said "having looked carefully at all the available evidence, a specialist prosecutor decided there was insufficient evidence for a realistic prospect of conviction in this case".
A further review - conducted at the request of Ms Hunt - "upheld the original decision", it added.
Watch the Victoria Derbyshire programme on weekdays between 09:00 and 11:00 on BBC Two and the BBC News Channel.