New national forest charter launched at Lincoln Castle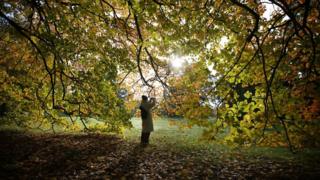 A new forest charter that aims to put trees and woods back at the heart of people's lives has been launched on the 800th anniversary of the original.
The event took place at Lincoln Castle - home to one of only two surviving copies of the original charter that granted public access to royal land.
The new document aims to protect existing woodland and encourage the planting of more trees.
Officials said the idea was to reverse a state of deforestation.
More on this and other stories from across Lincolnshire
According to the Woodland Trust, one of the organisations involved in producing the charter, England has slipped into a state of deforestation due to a large number of trees being cut down and planting rates being at their lowest for 40 years.
It said the charter aimed to combat "the unprecedented pressures from development, pests, diseases and climate change, and provide guidance and inspiration across government, communities and individuals".
The charter is built around 10-guiding principles, which include making trees accessible to all and putting trees at the heart of future development.
It also proposes a national charter day for trees, woods and people.
---
The original Charter of the Forest
King Henry III put his seal on the Charter of the Forest on 6 November 1217
Under the reign of King John, about a third of the country was royal forest, and the penalties imposed for forest offences were a major source of revenue for the king
The legislation aimed to address this by reducing the amount of land under royal control
The charter also banned capital punishments for forest offences such as poaching and hunting deer
Only two original copies of the charter exist - one housed at Lincoln Castle - the other at Durham Cathedral
A later version is housed at the British Library
Source British Library
---