The 'horrific' sexism blighting the beer world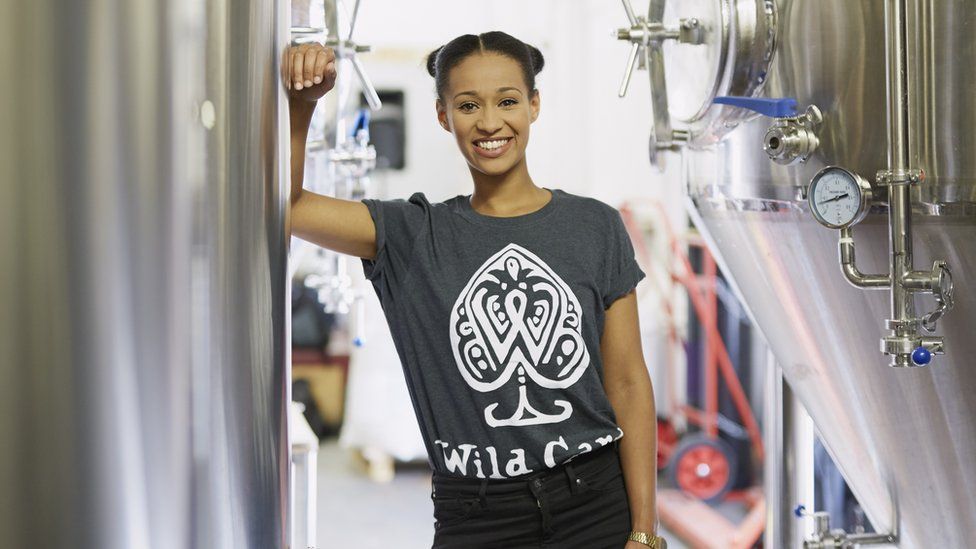 Women in the beer industry say they are the victims of "horrific" sexism, including being groped at events, abused on social media and belittled in their jobs. They explain why they are fighting for change.
Pictures of scantily-clad women and risqué names have long been used as a ploy by savvy brewers to entice punters to buy their beer.
But times have changed, bringing with it a backlash against the likes of ales called Top Totty and Dizzy Blonde.
Five years on, the battle against misogynist marketing is still being fought - as recently as October, an Irish brewery came under fire for its tagline "Dublin Blonde goes down easy".
Wild Card's head brewer Jaega Wise has since called for a ban on such branding, telling the Brewers' Congress: "This would quite quickly stop breweries deciding to have branding with boobs if they were actively banned from competitions."
But the problem's roots go far deeper than packaging.
Beer writer Melissa Cole said one of the "most horrific" experiences of her 20-year career was being groped at an industry event.
"We were in conversation and he just reached out and grabbed my boob. When I said 'what are you doing?' he went 'Oh, I'm a silly old man' and ran off," she recalled.
"I'd just gone freelance and was just coming to the attention of the beer world and commissioning editors, and it felt like a terrifying thing to kick up a fuss."
The incident happened a decade ago but a few years later, she saw him again at an event. To her horror, he made a joke about it - "Melissa knows I'm a boob man anyway".
"I was shaking with anger and shame that I didn't stand up to him back then," she said.
Ms Cole's experience is one of the more shocking examples of mistreatment in the beer world and thankfully, such reports are rare.
Yet women in the industry say they are regularly having to defend themselves against a litany of sexist behaviour.
Jan Rogers, director of Marble Beers in Manchester, says she is regularly picked apart for the way she runs her business.
One "patronising" comment made on social media referred to her simply as the "the lady owner", she said.
"I [joined] Twitter and I came off right away, I just couldn't cope with it. I went and looked for abuse and it came up, it's vile.
"It's easier for people to see Marble as quirky and wonky and say 'that's a woman doing that'."
Carla Prats Bernabeu said she is often questioned by customers at the craft beer bar in London where she holds tasting events.
She said when she starts the sessions by asking how much attendees know about beer, she is invariably met with "probably more than you do".
"This is my job and not because I'm a woman do I know less," she said.
It is somewhat ironic that people assume women are less knowledgeable about beer given that traditionally, they produced it.
"Beer was food, and food preparation was the domain of females," said alcohol historian and author Jane Peyton.
"[But] by the mid-20th Century, beer had been assigned a gender and that gender was male."
Women have also historically worked behind the bar as a means of enticing male customers - a stereotype perhaps strengthened by popular TV barmaids played by the likes of Julie Goodyear and Barbara Windsor.
"Women working in pubs has always been an attraction for men to look at and talk to," Ms Peyton explained.
"I know of an old-fashioned brewery which owns pubs where the CEO hires women to work in the pubs because male customers prefer it.
"They can converse with the women, have a flirt and chat them up. If this is harmless fun then it can be a jolly experience for both parties.
"If it is sexual harassment or vulgar or demeaning comments are aimed at the woman, then it is a problem."
Ms Rogers says she remembers working in a bar and being told to "dress up nice and get your skirt up shorter".
Luckily, she added, "things have changed".
But Ed Bedington, editor of the pub industry trade publication Morning Advertiser, believes an "underbelly of misogyny" still lurks.
"It's a shame because as an industry we would benefit hugely from having more female involvement," he added.
At its last conference, the Campaign for Real Ale (Camra) passed a motion to ensure venues selected for its Pub of the Year awards "avoid causing offence to any sections of society".
Its national director Abigail Newton added that the group "abhors any type of discrimination".
But Ms Cole wants UK beer bosses to follow the example set by the Brewers Association, which has ruled award-winning beers with offensive names in the United States will not be read out at ceremonies.
Former bar manager Steph Shuttleworth, who was "horrified" to learn her breasts had been the topic of conversation between volunteers at a beer festival, said Camra should fund training and outreach.
"With their budget, they could run campaigns on ending sexism or trying to further fund groups like Women on Tap," she added.
Women on Tap was the brainchild of Rachel Auty, who wanted to showcase females in the industry.
She hosted an event in May in Harrogate in North Yorkshire, followed by a week-long "celebration" in Manchester in November.
"I was coming across more breweries with beer brewed by a woman or where there was a strong female influence," she said.
"Not only were more women drinking beer but there were a lot of women behind the scenes and I wondered how many people actually realised that.
"It's about changing the perception that the beer industry is a man's world."
For Ms Cole, such events are key to improving the state of the beer industry.
"There's more visible women and we have a tendency to support each other. There's a real sense of sisterhood."
Related Internet Links
The BBC is not responsible for the content of external sites.