Gaia Pope case: Man held on suspicion of murder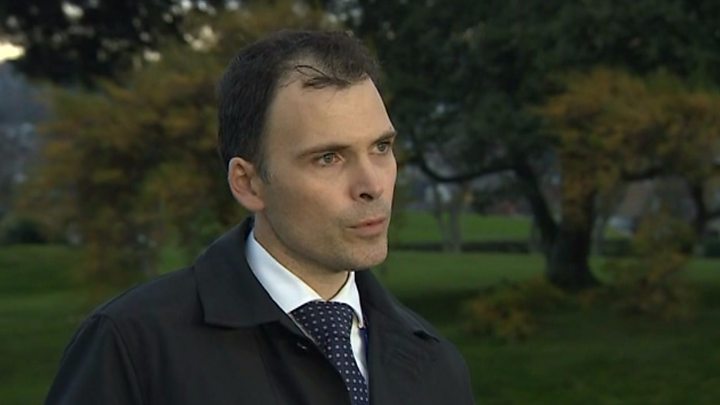 Police investigating the disappearance of teenager Gaia Pope have arrested a 49-year-old man on suspicion of murder.
Paul Elsey, confirmed as the suspect to the BBC by his father, is from the Swanage area of Dorset.
Mr Elsey, the third person to be held in the inquiry, is believed to be known to 19-year-old Gaia, who went missing from the town on Tuesday, 7 November.
A search is continuing in an area where items of women's clothing were found earlier, Dorset Police said.
Mr Elsey lives at the same property as his mother Rosemary Dinch, 71, who along with her 19-year-old grandson, Nathan Elsey, were arrested on suspicion of murdering Ms Pope on Monday.
The pair were released on Tuesday while inquiries continue.
Det Supt Paul Kessell said the clothing was found on land near the Dorset coast path and "a number of vehicles" had also been seized.
The officer said it was not clear who the clothes belonged to but they were "similar" to those which Gaia was wearing.
He added Gaia's family had been informed of the developments and were being supported.
She was last seen nine days ago by family friend Ms Dinch in Swanage.
Since Gaia's disappearance, extensive searches have been carried out in and around the resort, involving police, coastguard teams and local volunteers.
Asked why the latest suspect had been arrested on suspicion of murder, Mr Kessell said: "As you would expect, we have been conducting this inquiry for two weeks and it is our responsibility to investigate every avenue of inquiry that's open to us.
"In doing that, we continue to investigate whether Gaia has come to harm through an act of crime or whether she is missing and we will continue to do so."
He appealed directly to the public to come forward if they have any information or have had any contact with Gaia since she went missing.
Gaia, who has severe epilepsy, is thought to have gone missing without her medication.
Earlier, her father Richard Sutherland told the BBC the support from the community in the search had been "heart warming".
"It's been beautiful, it keeps us going. To feel that strength of everyone helping us - every bit of help is gratefully received and she's worth every bit of it," he said.
On Wednesday police released CCTV images of Gaia at a petrol station shortly before she went missing.