Hughie Saunders murder trial: Accused 'feared hiding' from victim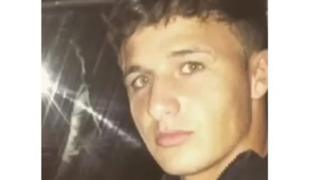 A former amateur boxer accused of killing a man at an M25 service station has told a court he approached the victim to "clear the air" with him.
Simon Baker, 22, is accused of beating Hughie Saunders, 20, to death with a plasterer's whisk at Cobham services, Surrey, on 26 June.
The Old Bailey heard Mr Baker had heard Mr Saunders had threatened him with a "hiding" if the two met.
Mr Coyle and his cousin Simon Baker, 22, both deny murder.
The jury has been told Mr Saunders, nicknamed Quhey, had been returning to his home in Stanford-le-Hope, Essex, from a family wedding when he stopped at the petrol station for refreshments.
At the same time, Mr Coyle, of Barnes, south-west London, and Mr Baker, of Green Lane, Outwood, Surrey, pulled up in a van loaded with building tools.
After recognising the victim, they parked in front of his car "spoiling for a confrontation", prosecutors allege.
Mr Coyle allegedly armed himself with a shovel and Mr Baker with a large industrial whisk. Mr Saunders, from Stanford-le-Hope, in Essex, was unarmed.
Mr Baker told the court that he was "relatively related" to Mr Saunders, who "was supposed to be saying a few things about me and the travelling community".
"I thought I did not know why he was saying it. I just thought I would ask him why he was saying those things."
Mr Baker said it had been going on "for a few years" and he had been "barred" from going to traveller events in the past.
"Every now and again someone would tell me. It's all gone through the grapevine really."
Asked what type of things he was supposed to have said, he replied: "Just basically when he sees me he's going to give me a hiding."
The trial continues.