Telford woman resident in UK since 1968 still considered 'unlawful'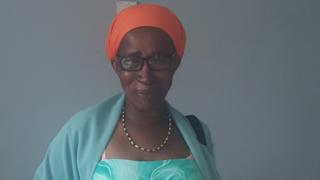 A woman who was almost deported despite living in the UK for nearly 50 years says she is is still waiting to be legally recognised by the government.
Paulette Wilson, 61, arrived in Telford in 1968, aged 10, from Jamaica.
Government guidelines state that anyone who settled in the UK by 1 January 1973 has the right to remain in the country.
But since her release last month from an immigration centre, her solicitor said the Home Office still considered her to be living in the UK unlawfully.
Jim Wilson said they had heard nothing from the department since her release from Yarl's Wood immigration removal centre. and she still cannot get her benefits and has to visit a Home Office reporting centre in Solihull.
"It's very difficult to tell what the sticking point is," he said.
"We've had no communication at all. They've had a letter saying we're applying to the court for a judicial review... they've seen documents showing she's been here lawfully."
Ms Wilson, who now lives in Wolverhampton, lived with her grandparents, when she first arrived in Britain.
She has remained in the country and has 34 years of National Insurance payments, but was informed in 2015 she had "no right" to be in the country.
Mr Wilson said her housing sickness and benefits were stopped and she is penniless.
He wants the Home Office to "acknowledge she is here legally", entitled to benefits and that she was unlawfully detained.
"And on top of that, they need to explain why they have picked on a person in her situation and caused her such misery."
In a statement, the Home Office said there had been on-going discussions with Ms Wilson over the past three years about how she could regularise her immigration status, including contact with her MP.
"These discussions did not lead to her making an application or providing the necessary evidence to show a lawful right to remain.
"However Ms Wilson has now submitted an application last month and we are looking into her case to help regularise her immigration status."