South Western Railway could axe quiet train carriages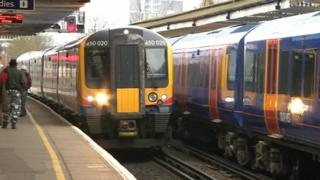 A train operator could be about to signal the end of quiet carriages on its services.
South Western Railway has said conductors are often unable to enforce the rules on board trains.
The firm has asked customers to vote on whether they want to see the end of the noise-free zones.
Some operators, including Cross Country and Great Western Railway, have already abolished quiet carriages on some of their services.
South Western, which operates lines between London and Weymouth, Portsmouth, Reading, and the Island Line on the Isle of Wight, said quiet carriages can be "a thorn in the side of some and safe havens for others".
Speaking at Reading station, passenger Oliver Johnston said: "I'm young, so it doesn't bother me where I sit on the train."
However, he added: "If you want a bit of peace and quiet though, there is more space on those carriages."
'Not adequately governed'
Another, Tom Willis, said quiet carriages were "somewhere nice to sit quietly and kick back with a book".
"The rules do get bent a bit in rush hour, but outside of those times I think it does work quite well."
South Western argues it is unable to effectively police the carriages - which prohibit mobile phone use and loud conversations.
"There is a limited amount of action that we can take as a train operator," head of customer experience Christian Neil said.
"We have had feedback from customers for many years, on both sides, saying that they are not adequately governed."
Lisa Lavia, from the Noise Abatement Society, said passengers should have "some respite from the cacophony of travel and modern life".
"Everyone understands that on a busy commuter train when space is at a premium, generally people are sensible.
"To at least have the opportunity to have somewhere quiet - when it's possible - is very important," she said.
The company has now posted a survey on its website asking for customers to give their opinion on the future of quiet carriages.
The consultation remains open until Friday.