Private ambulance firm Arriva accused of lying to patients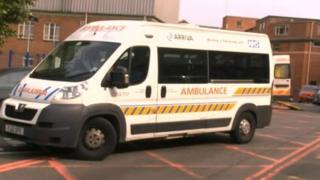 A former private ambulance driver has accused the firm which runs the service of "lying" to patients who have been left waiting hours for transport.
He spoke out after seeing the case of Myra Hayes who waited four hours for Arriva Transport Solutions to take her home after a terminal cancer diagnosis.
The driver, who wanted to remain anonymous, blamed "poor management".
Arriva "accepted" it should give up-to-date information but said "sometimes plans changed at very short notice."
Myra Hayes, 42, had been left alone to wait for four hours for Arriva to take her home to Chippenham.
She had just received a diagnosis of terminal bone cancer at the Bristol Royal Infirmary.
The former driver contacted the BBC after seeing Ms Hayes' story. He said he left his job at Arriva in 2015 because "it got to the point when I couldn't take any more".
He said: "It's upsetting to see patients all the time waiting, waiting. It's disorganised chaos.
"Sometimes it's down to the traffic but a lot of the time it's the controllers not working out the runs properly.
"If people were honest and said 'your driver is X-miles away, he's in the next town, he'll be with you as soon as he can', that should please people. But unfortunately they get lied to - time and time again.
"The crews try their hardest, but they're constantly up against it. It's not the crews, it's further up the chain that needs to be addressed."
'Poor experiences'
Arriva managing director Ed Potter said he had had a "very constructive discussion" with Ms Hayes earlier this week and she had "shared some feedback about parts of our organisation where there is a clear and pressing need for improvement."
He said: "The service we plan can change at any time and it is not unusual for a vehicle to be held up unexpectedly because of a patient falling ill or not being ready when we arrive."
But he added there were "commissioning challenges that equally must be addressed".
"Some of these external challenges, which are completely outside a patient transport provider's control, directly contributed to some of the poor experiences that Myra Hayes told me about.
"We believe there has to be a transformation in the way patient transport is designed and commissioned in order to meet the increasing demands being placed upon it.
"We take our obligations seriously and we are always willing to be held to account by the public that we serve."