Security guard 'terrified' by cash-in-transit robberies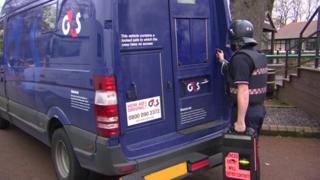 A security guard attacked 13 times in nine years in cash-in-transit robberies says he has been left "terrified".
The guard, known as Jim, was speaking as the North West's organised crime unit Titan revealed a 46% rise in attacks in the region.
Another guard, targeted four times, said he had been "destroyed" by the experiences.
There have been 60 cash-in-transit robberies this year, compared with 41 in 2016.
Jim said: "It's terrifying… when it literally happens for a split second you freeze but then... all the training kicks in.
"Still in your head you're not sure what's going to happen - whether you're going to be hurt or not or whether they're going to get away with it.
"Obviously my job is to protect it so it's not a nice situation."
Jim said there were always other people about when robberies took place, including children who had to witness the crimes.
He said he got nervous returning to work after a robbery.
"Little things happen like someone runs past you - and you panic thinking it is happening again."
The second guard said during one attack robbers "tried to run him over" as he left his van.
He said a masked robber from the car demanded he handed over his cash box.
'Mentally destroys you'
Although he gave it to him it "wasn't enough" and he and two other masked men from the vehicle "took great pride in beating me up" with bats.
The guard, who has worked in the job for 17 years, said victims might get over the physical scars, but mentally the attacks "destroy you".
He added: "You're just doing a day's work."
Det Insp Jon Smith, from the Titan unit, said such attacks caused "deep distress to those at the brunt of the attacks who are just trying to earn an honest living".
Six of the region's police forces and other agencies are working with Titan to clamp down on cash-in-transit robberies in the run-up to Christmas, including:
Merseyside Police
Greater Manchester Police
Cheshire Police
Lancashire Constabulary
Cumbria Constabulary
North Wales Police
British Security Industry Association (BSIA) and
SaferCash
Det Ch Insp Graeme Robson, of Merseyside Police, said extra resources were being ploughed into "high-risk locations" over Christmas.