Prosecco ball pit events cancelled amid online row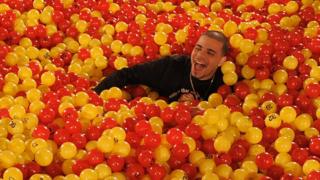 Dozens of events where prosecco bars are incorporated into adult-only ball pits have been cancelled after a social media campaign, organisers say.
Organisers of the "Prosecco and Balls" nights, Prime Live Group Ltd, said online posts claiming the company was fraudulent caused venues to pull out.
However, the BBC has been contacted by people who say they are unhappy with the company's handling of complaints.
Merseyside Police said it is investigating the comments.
Prime Live said it was to cease trading and the events, due to have started in November, would not go ahead.
On Facebook, hundreds of people have now posted on the 'Prosecco and Balls - UK Tour' page to ask how to get refunds for pre-booked tickets.
The Liverpool-based organisers apologised in a post on the site and blamed the cancellations on a "hate group". It said thousands of pounds had been invested in the events and it was now selling assets to recover money and to pay back customers.
The statement said: "This entire process has become an extreme domino effect and is ruining all our potential events.
"It was never our intention to not run these events."
Tickets for the events were priced at £14 and would see huge, adult-sized ball pits taken into clubs, with sparkling wine on sale through the night.
Events had been scheduled in towns and cities across the UK, including in Shrewsbury where an event scheduled for 18 November was cancelled with 48 hours notice and rearranged for 3 March 2018. This will now not go ahead.
Grant Lees from the Buttermarket, which was due to host it, said promoters had been "very forthcoming" in making arrangements and he "empathised" with customers trying to get refunds.
He said: "It is my belief they did intend to go ahead with the Shrewsbury event. We have worked with that promoter before on different events which have been very successful."