Chennai Six: Ray Tindall and Nick Dunn return to UK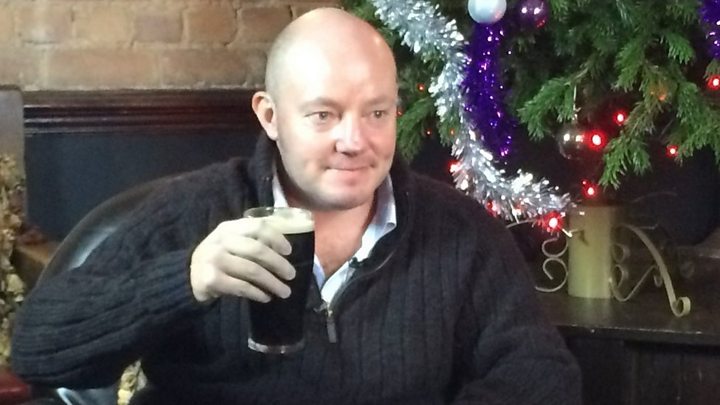 Two of the so-called Chennai Six, detained in India for four years on weapons charges, are "on cloud nine" after returning home.
Ray Tindall arrived in Chester and Nick Dunn landed at Newcastle Airport.
They along, with four other British men, were imprisoned in 2013 after Indian officials found weapons and ammunition on a ship.
The six were working as guards on the anti-piracy vessel. They won an appeal against their convictions last week.
Mr Tindall said he has a grandson he has never met.
Mr Dunn, from Northumberland, said he could not have gone through the last four years without support from his family.
The Chennai Six: What is their story?
Mr Tindall, originally from Hull, said his daughter was aged four when he left and was now eight, and he had a seven-month old grandson he has not met.
But he said: "I'm a strong Yorkshireman. I need to be the architect of my future not the prisoner of my past".
He kept fit while in custody: "I ran in total, since November 2013, 7,652 miles - I could have run home in that time.
"I'm stronger now than I've ever been. In one way it's made me a better person.
"I won't ever get the four years back so there is no point looking to the past.
"If you're angry, you can't progress, because you can't forgive."
'Juicy steak'
Mr Dunn, from Ashington, was greeted by his family as he arrived at Newcastle International Airport.
He said he was "overwhelmed, ecstatic... on cloud nine".
"I've always had a bit of mental strength from being in the army, but nothing could prepare you for what I've just gone through.
"If it wasn't for my sister [Lisa] and everyone's amazing support, I don't know how I would have done it."
Mr Dunn said he could not believe how cold it was in the UK and said he wanted to eat a "juicy steak".
After the reunion with her brother, Lisa Dunn said: "We've waited four years and we're a family again. It's brilliant."
Meanwhile, a supporter of Paul Towers announced his return to Pocklington, Yorkshire on a Facebook page dedicated to his campaign, saying "Paul is finally home... Christmas has just come early."
The message added: "On behalf of Paul, Ann and Jordan I want to extend a huge thank you to each and every one of you for providing them with love and support during the last four years.
"There aren't the words to express how much this has meant to them as a family."
Who are the Chennai Six?
The six men were working on the anti-piracy ship MV Seaman Guard Ohio, owned by the US-based company AdvanFort, when they were arrested in 2013.
They were held along with three Ukrainians, 14 Estonians and 12 Indians when customs officials and police found weapons and ammunition on board, which Indian authorities said had not been properly declared.
Initially the charges were quashed when the men argued the weapons were lawfully held for anti-piracy purposes and the paperwork, issued by the UK government, was in order.
But a lower court reinstated the prosecution and in January 2016 they were sentenced to five years in prison.
Nick Dunn from Ashington, NorthumberlandChennai Britons 'on cloud nine'
Billy Irving from Connel, Argyll
Ray Tindall from Chester
Paul Towers from Pocklington, East Yorkshire
John Armstrong from Wigton, Cumbria
Nicholas Simpson from Catterick, North Yorkshire