MP's aide Samuel Armstrong faces Westminster rape trial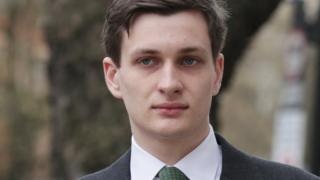 An MP's aide raped a woman in the Houses of Parliament when she rejected his advances after a night of drinking, a court has heard.
Samuel Armstrong, 24, of Copt Hill, Danbury, Essex, denies two counts of rape and two counts of sexual assault.
Prosecutor Mark Heywood QC told Southwark Crown Court the victim, in her 20s, had been found "in distress" by cleaning staff at Westminster.
It is claimed the attack took place in the office of Tory MP Craig Mackinlay.
'Interested in himself'
Mr Heywood QC told the court the defendant, who was the South Thanet MP's chief of staff, "abused his position" after an evening of drinking at the Sports and Social Bar on 14 October 2016.
He said Mr Armstrong raped the woman twice while they were alone in the MP's office in the Norman Shaw building at Westminster and added: "In doing so, we suggest, he was interested only in himself.
"She, in distress, walked and ran through the corridors of that place, Westminster, eventually finding and telling a member of cleaning staff what had happened.
"He went out another way, using his pass and sending her messages, one of which suggested that he was concerned and that she contact him if she had 'any issues'."
But jurors were also told Mr Armstrong claimed that what happened took place with "full consent".
'Shaking and crying'
The court was told the woman, who also worked in parliament, was seen on CCTV running and leaving through Portcullis House at about 02:05 BST.
Jurors heard a cleaner found her "shaking and crying" near the closed bar and she asked him to call police.
And the jury was also told about injuries that were consistent with, but did not prove, the allegations.
The court was told the woman had rebuffed Mr Armstrong's advances and he had called her a "bitch" and raped her.
'My body just froze'
During an hour-long police interview played to the jury, the woman said she "felt like a hostage".
She said: "I fell asleep and the next thing I remember was him (Armstrong) with his hand on my left breast, and him kissing my mouth and my neck."
"He kept saying come back to his flat, and I kept mumbling 'no', and he kept saying it,"
"He called me a 'bitch' a few times."
She continued: "I remember my body just freezing and I had no clue what was going on, as ridiculous as that sounds."
The woman said she felt "very vulnerable" and "incredibly alone".
She said she dressed and left as soon as possible, walking, then running through Westminster.
"It 's one of the most important buildings in Britain. It has no police anywhere," she added.
On the evening of 13 October, the pair had been drinking in the bar and at about last orders, Mr Armstrong, the woman and two other people went to the leader's terrace in the Lords Office to drink wine, the court heard.
Mr Heywood said neither looked particularly affected by drink at that point and later in Mr Mackinlay's office the pair sat and talked.
"This time is where it began to go wrong, in the early hours," Mr Heywood said.
"It is the prosecution case, the defendant took advantage of the situation and of her obvious and open friendliness towards him."
'Imposing himself'
Jurors heard the woman fell asleep, and Mr Armstrong began kissing and touching her before asking her back to his flat.
But when she told him "no", Mr Armstrong repeatedly called her a "bitch", jurors were told.
The court heard she "froze" as he became "physical", taking off her clothes and assaulting her.
Mr Heywood said the woman asked Mr Armstrong what he was doing to which he allegedly replied: "This is what you want."
Defending, Sarah Forshaw QC suggested the woman had not wanted to hand her medical records to police because they would have revealed she suffered from mental health issues in the past.
The woman, giving evidence from behind a screen, said she had mild depression and anxiety at the time of the alleged attack, but denied experiencing "extreme swings of mood".
She admitted she had previously made a bullying claim against a female university professor.
Cross-examining, Ms Forshaw suggested the woman invented claims Mr Armstrong called her a "bitch" after hearing him use the phrase "bitch, please" as part of a running joke with colleagues, but the woman said she hadn't.
Ms Forshaw suggested the woman found Mr Armstrong attractive and willingly had sex with him after he gave her a tour of parliament.
She said: "It wasn't until after you and he had had consensual sex and he let you go on your own that you found you couldn't find your way out of the House of Commons, that's what happened, and you had a sort of panic attack, anxiety ... and you couldn't find your way out?"
But the woman replied: "I couldn't find my way out and I was crying because a man had forced himself upon me."
The court heard the aide was arrested at 05:39 BST and later gave a prepared statement to police, which said: "I deny the allegation of rape and wish to say that any contact between [the complainant] and I was at all times consensual."
The court was told Mr Armstrong had been a Conservative Party volunteer at university and joined Mr Mackinlay's staff in 2015.
The trial continues.