Navy rehab team retrace WW2 Cockleshell Heroes mission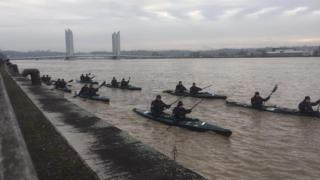 A team from the Royal Navy has canoed and walked 185 miles (300km) to mark the 75th anniversary of one of the most daring operations of World War Two.
Members of the Naval Service Recovery Centre (NSRC) retraced the route taken by the Cockleshell Heroes commandos in eastern France in 1942.
The 10 Royal Marines had been tasked to plant mines on enemy ships in Bordeaux.
Capt Paul Fleet said the team had "dug deep" to complete the tribute.
The NSCRC team, based at Devonport Naval Base in Plymouth paddled the 85 miles (135km) in replica Cockleshell canoes over five days from the Gironde Estuary in the Bay of Biscay, finishing in Blanquefort Bordeaux. It was followed by a further 100-mile walk to Ruffec.
They completed the route on the exact dates taken by the original 10 marines who became known as the Cockleshell Heroes.
More than 30 navy personnel, many receiving treatment for physical injuries and mental health conditions at the at the rehabilitation centre Devonport Naval Base in Plymouth, took eight days to complete the route.
Capt Fleet said it allowed them to "discover what they can still do, not what they can no longer do due to their conditions and injuries".
"The weather was pretty awful at times and my guys had to really dig deep, but the sense of achievement felt by all was incredible and I am immensely proud of my guys."
During the journey, they unveiled a permanent monument commemorating Operation Frankton at a site near the town of Blaye where the two survivors, Major Herbert 'Blondie' Hasler and Corporal Bill Sparks, scuttled their canoe.
---
The Cockleshell Heroes - Operation Frankton
The top secret wartime plan, named Operation Frankton, was for the two-man canoes to be dropped off by submarine before paddling the 60 miles (97km) upstream to Bordeaux.
Their mission was to the attack enemy German cargo ships moored at the port of Bordeaux in occupied France
They were based and trained in canoes off the Hampshire coast before setting off from Portsmouth on board submarine HMS Tuna.
Six enemy ships were successfully damaged.
Only two of the men survived the operation and escaped to Spain across the Pyrenees.
It was considered one of the most daring operations of the war and Winston Churchill said it shortened the conflict by six months.
In 1955 a fictional version of the story was made into a film called The Cockleshell Heroes.
---