Mohammed Abbas Idris Awan guilty of planning terror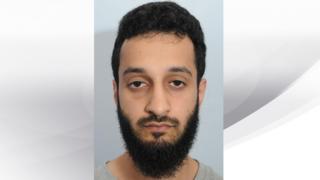 The brother of a suicide bomber killed in Iraq has been found guilty of terrorism charges.
Mohammed Abbas Idris Awan, originally from Huddersfield, was arrested after buying 500 ball bearings online.
The 24-year-old, who told police that he was a keen fisherman and was researching hunting with a catapult, had denied preparing for an act of terrorism.
He was convicted at Sheffield Crown Court.
His brother Rizwan Awan, 27, killed 30 people in a bomb blast in Iraq in 2016.
Dentistry student Awan, of Dun Street, Sheffield, was arrested in June by North East counter terrorism officers. House searches took place in Huddersfield and Sheffield.
He was found to possess a "significant volume" of extremist material, including advice on how to be a "sleeper cell" in the West.
'Influenced by propaganda'
Police seized 11 mobile phones, 16 USB memory sticks and seven computers.
One memory stick contained a 36-minute video of a senior al Qaida leader calling on young Muslims to join so-called Islamic State (IS) and featured graphic footage of how to kill and kidnap victims.
Awan was charged with engaging in the preparation of an act of terrorism and possessing a record likely to be useful to a person committing or preparing an act of terrorism.
Det Supt Simon Atkinson, head of investigations at Counter Terrorism Policing North East, said: "Awan was influenced by the material he had researched online which included numerous Daesh propaganda sites.
"Whilst we do not know the full details of Awan's intentions, officers intervened swiftly before Awan could put any plans into practice."
Jurors convicted him of three counts in total:
Two charges of possession of a document or record containing information of a kind likely to be useful to a person committing or preparing an act of terrorism
One charge of engaging in conduct in preparation of terrorist acts or assisting others to commit such acts
Awan will be sentenced on 20 December.