Bombardier signs £100m deal to build new trains for c2c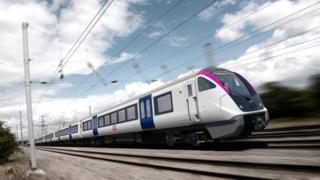 Bombardier has agreed a £100m deal with rail operator c2c to build six new trains at its factory in Derby.
The new carriages will run on services between London's Fenchurch Street station and Essex.
The new fleet will add capacity for about 20 per cent more passengers from the summer of 2021, three years earlier than previously planned.
The Rail, Maritime and Transport union described the deal as a "victory".
Richard Hunter, UK managing director of Bombardier Transportation, said the new carriages "are proving ever more popular" and said the deal was "another endorsement" of its British-based manufacturing.
Ernesto Sicilia, UK managing director for Italian firm Trenitalia, which bought c2c earlier this year, said the announcement "demonstrates our focus on long-term investments in the UK market".