Breck Bednar murder: Sisters warn of internet dangers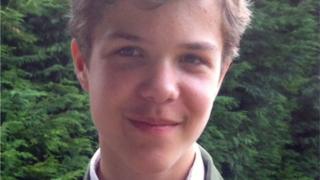 Twin sisters whose brother was killed by a teenager he met online are urging other children and their parents to be aware of the dangers of the internet.
Breck Bednar, 14, from Caterham, in Surrey, was murdered by Lewis Daynes, 19, at a flat in Grays, Essex, in 2014.
Daynes met his victim through a gaming website. He was jailed for life for slashing Breck's throat.
Chloe and Carly Bednar said they wanted the government, police, and internet firms to do more to protect youngsters.
The 16-year-olds said they still missed their brother desperately, and Christmas and birthdays were especially difficult.
"It just doesn't feel right not having him here," said Carly.
Chloe said youngsters "needed to think" before talking to people online.
"Do I know who this person is? Do I know that they're safe? Do I know that I can trust them?
"You just need to think about everything. Just be careful," she said.
After Breck's murder, his family - who now live in Kent - formed The Breck Foundation, which warns youngsters of online dangers.
It urges them "to always remember that the friends that are made online are not like your real friends". ​