More than 100 jobs lost in Burgess Marine collapse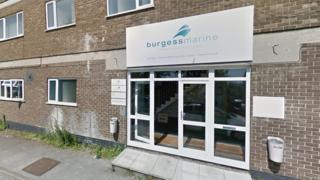 A maritime engineering firm has gone into administration with the loss of 102 jobs.
Burgess Marine Ltd, based in Dover, said the business failed after problems with payment for a recently-completed "major refit project"
Sites in Devonport, Portchester, Portsmouth and Southampton have closed with all staff being made redundant.
Assets in Avonmouth, Lowestoft and Poole have been sold to a ship repairer, saving 45 jobs.
Southampton Marine Services is also buying Burgess Marine's wholly-owned subsidiaries allowing them to continue as normal, administrators said.
Danny Dartnaill, from administrators BDO, said: "Regrettably, difficult trading conditions and a shortfall in the company's working capital position - contributed to by a failure to secure the final payment due in regard to a recent major refit project - significantly affected the business and its ongoing viability.
"We are pleased to have been able to secure a partial sale of the business as a going concern."
In Dover, four staff have been retained to help wind down the company's affairs.
Burgess Marine worked in the commercial marine, defence and superyacht sectors.