Rape-accused MP's aide 'drank with alleged victim'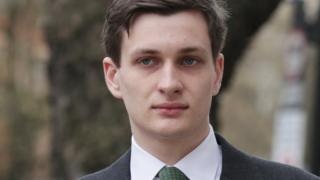 An MP's aide accused of raping a parliamentary worker at Westminster told a court the pair drank heavily on the night of the alleged attack.
Samuel Armstrong, chief of staff to South Thanet MP Craig Mackinlay, listed a catalogue of spirits that they drank before heading to his boss's office.
He said they had bought drinks for each other before going to the roof terrace and then to an office, in October 2016.
Mr Armstrong, of Danbury, Essex, denies two rape and two sex assault charges.
Beginning his evidence at Southwark Crown Court, the 24-year-old said he had been "as happy as I'd ever been" working for Mr Mackinlay, with whom he said he had "quite a bit to do".
Asked by his barrister, Sarah Forshaw QC, how much his "dream job" meant to him, he replied: "It was all I really did in a week. I adored that job."
Mr Armstrong said on the night of the alleged rape, 14 October, he had been drinking with the woman - a parliamentary worker in her 20s - in the Sports and Social Bar in the Palace of Westminster.
She had bought two shots of tequila, two of amaretto and a double gin and tonic, he said.
He then bought another double gin and tonic, which they drank before heading to the roof terrace to hear Big Ben strike 10.
When they came down they each had a double rum and cola, which he bought, he told the court.
Mr Armstrong said the pair had been drinking at the same pace before moving on to an office in the House of Lords, where they drank some red wine.
Asked whether his alleged victim had had only a sip, he replied: "That was not my recollection. She was keeping up."
Mr Mackinlay, the Conservative MP for South Thanet, Kent, since 2015, previously told the court that he had a close relationship with Mr Armstrong but had not been in Parliament on the night in question.
The trial continues.