Revised Trans-Pennine tunnel to be shorter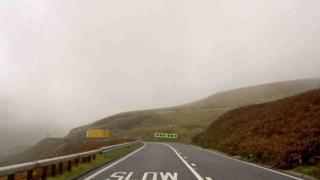 Revised proposals for a road tunnel between Sheffield and Manchester have been drawn up as part of a transport plan for the north.
The new Trans-Pennine tunnel would be shorter than the 20 miles currently proposed and include major upgrades to the A628.
Transport for the North (TfN) said the new route would also be cheaper to construct.
The revised idea will be presented to the government by the end of next year.
Last year, the Department for Transport unveiled five possible routes for a multibillion-pound tunnel to link the M60 motorway east of Manchester to the M1 north of Sheffield.
'Too expensive'
The revised plans include:
A shorter tunnel starting within the existing Woodhead Pass route
Improvements to roads between Liverpool and Hull
A spokeswoman for Transport for the North said the original proposal was shown to be too expensive and did not address the network beyond Sheffield.
The new idea has been set out in the draft Strategic Transport Plan, and addresses infrastructure needs over a 30-year period.
It highlights two priority areas: A high-speed line connecting Liverpool, Manchester, Leeds, Sheffield and Hull, and a London-style smart travel system allowing people to move easily between different modes of transport.
John Cridland, TfN chairman, said: "Transport for the North's vision is of a thriving North of England, where modern transport connections drive economic growth and support an excellent quality of life."
The draft plan will be published in January with a public consultation running until April.