Westminster rape accuser 'did not resist sex'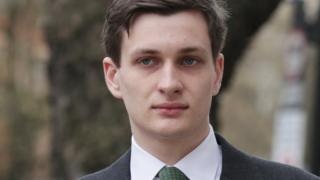 A parliamentary worker who claims she was raped at Westminster did not resist sex "at all", a court has been told.
Samuel Armstrong, chief of staff to South Thanet MP Craig Mackinlay, said it was the woman's idea to go his boss's office to drink wine.
CCTV captured them dancing in an empty Westminster Hall before they headed off with her holding his arm.
The aide, from Danbury, Essex, denies two charges of rape and two of sexual assault on 14 October 2016.
Continuing his evidence at Southwark Crown Court, the 24-year-old denied he kissed her against her will on a sofa in the office.
"She was kissing back," he said.
'Joked flirtatiously'
Mr Armstrong described the route they had taken from the Leader of the Lords' office to Mr Mackinlay's office in the Norman Shaw North building.
He told the court they had discussed going to the crypt where he would show her a broom cupboard suffragette Emily Davidson had hidden in during the 1911 Census.
However, they had "joked flirtatiously about him being a disappointment" when they found it was locked, he said.
Once in Mr MacKinlay's office, he said the woman asked him to play jazz music and sat with him on a sofa, before demanding: "Dance with me."
He said they danced and began kissing, before he performed a sex act on her as she sat on the sofa.
He said they had sex for several minutes until the complainant got up to change the music.
He said: "After a little while she said, 'some people are going to think that you have taken advantage of me', but it was in a sort of teasing voice.
"I responded, 'I'm not sure anyone could come to that conclusion'."
He said the woman then sat on top of him and they began to have sex.
Running in tears
He told the court: "We were joshing around and being funny... I was being a bit of a prat."
Mr Armstrong's barrister Sarah Forshaw QC asked him: "Were you forcing her at any stage to have sex with you?"
He answered: "No."
Ms Forshaw continued: "Did she resist in any way?"
He replied: "Not at all."
Afterwards, he claimed she said: "I've got to head home but I've had fun."
When she left, at about 02:00 BST, he said he realised she might not be able to get out, so he went to Derby Gate and asked a police officer if he had seen her.
He said he texted to ask if she was OK but heard nothing back, so went home.
The woman was captured on CCTV running through the corridors of Westminster in tears.
Mr Armstrong told the court that when police came to arrest him, he thought there must be "some sort of mistake".
He described feeling as though "someone had punched me in the stomach".
Under cross-examination he said using the office for sex was "an act of enormous foolishness".
He added: "I've had the worst year of my life. I'm unable to work, unable to sleep, unable to eat...
"While what I did was foolish... someone is trying to send me to prison for a very long time for something I didn't do."
The trial continues.