Travel guide: When should I avoid the roads?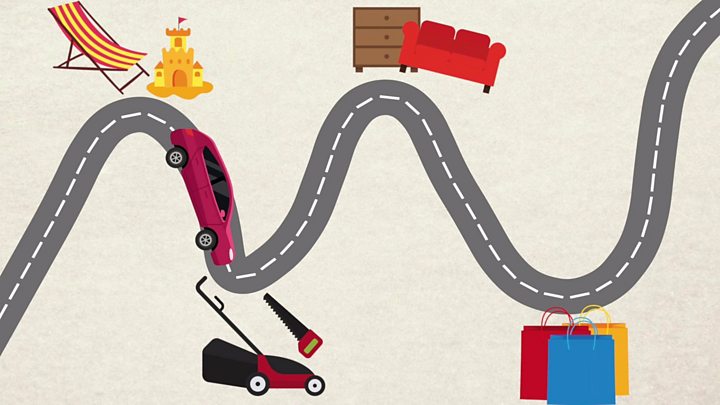 Drivers face delays of between an hour and three hours on some routes as people travel across the UK to visit friends and family.
The traditional Christmas to New Year break will see an estimated 17.5 million journeys made.
Traffic experts warn some routes could be hit by delays of more than three hours, with Boxing Day, 27 and 28 December the busiest days.
Rail engineering works also mean cancellations and replacement bus services. More than 200 sets of work are under way over Christmas.
Most roadworks on motorways in England were lifted on Friday to give drivers a clear run and will not be put back until 2 January.
RAC traffic spokesman Rod Dennis this would help keep traffic flowing, but added: "It only takes a single accident or breakdown in some locations to bring traffic grinding to a halt.
"As always, the message to drivers is to plan ahead and try to avoid peak times if you can."
When and where to avoid
Boxing Day is expected to see about 5.3 million journeys made on the roads.
The RAC said the busy period would be late morning to mid afternoon, but warned it may be later wherever there are football matches.
Separate research by traffic information company Inrix suggests 27 and 28 December will see the heaviest traffic with the M25 around London facing the longest delays.
The worst delays, based on data from the same dates in 2016, are predicted to be:
Wednesday 27 December
M25 Clockwise, Junctions 7 (Merstham) to 16 (Iver Heath) - 3 hours 13 minutes of delays, peak time around 12:30 GMT
M25 Anti-clockwise, Junctions 13 (Colne Brook) to 5 (Chipstead) - 1 hour 55 minutes of delays, peak time around 13:00 GMT
A303 Eastbound, Yarcombe to Cholderton - 1 hour 33 minutes of delays, peak time around 16:00 GMT
M4 Eastbound, Junctions 23 (Magor) to 18 (Bath) - 55 minutes of delays, peak time around 17:00 GMT
M60 Anti-clockwise, Junctions 18 (Simister) to 12 (Eccles) - 53 minutes of delays, peak time around 13:30 GMT
Thursday 28 December
M5 Southbound Junctions 14 (Falfield) to 25 (Deane Gate) - 1 hour 47 minutes of delays, peak time around 15:30 GMT
M6 Northbound Junctions 12 (Gailey, South Staffordshire) to 23 - 2 hours 8 minutes of delays, peak time around 14:30 GMT
A303 Westbound, Cholderon to Yarcombe - 1 hour 34 minutes of delays, peak time around 15:45 GMT
For more stories from the BBC England Data Unit visit our Pinterest board.
Highways England finished or put on hold 400 miles of roadworks between 22 December and 2 January, meaning lanes will be open and temporary speed restrictions lifted.
However, 27 sets of roadworks covering a total of 122 miles will remain in place because it will be too dangerous to lift them.
Longest sets of roadworks over Christmas
A1 Junction 51 (Leeming) to 56 (Barton) - Narrow lanes and speed limit of 50mph - 26 miles
M6 Junction 16 (Crewe) to 19 (Knutsford) - Motorway upgrade - 20 miles
A14 Junction 31 (Girton) to 38 (near Cambridge) - Road widening - 11 miles
M62 Junction 30 (Rothwell) to 32 (near Castleford) - Third lane closure, narrow lanes, 50 mph speed limit - 8.2 miles
M1 Junction 23a (Donington Park) to 25 (near Nottingham) - Motorway upgrade - 8.2 miles
M6 Junction 8 (West Bromwich) to M5 Junction 3 (near Oldbury) - Structural repairs with speed limits - 7 miles
M60 Junction 12 (Eccles) to 18 (near Manchester) - Narrow lanes with temporary barrier - 7 miles
A1M Junction 15 (Sawtry) to A1 Buckden (near Huntingdon) - Road widening - 6 miles
M1 Junction 19 (Catthorpe) to 18 (near Crick) - Narrow lane - 5.6 miles
M62 Junction 33 (Ferrybridge) to 34 (near Doncaster) - Third lane closure, narrow lanes, 50 mph speed limit - 5 miles
A Highways England spokesman said: "We have suspended roadworks on the majority of roads, leaving only essential works in place. However, it is not possible to remove all roadworks due to safety reasons."
When to avoid the trains
More than 200 sets of engineering works are planned for the rail network over Christmas.
Network Rail, which control's the UK's railways, says it is the least disruptive time to do the work.
Changes include:
London Paddington closed until 27 December
No Greater Anglia trains between London Liverpool Street and Ingatestone or Billericay until 1 January
Replacement buses between Preston and Lancaster until 27 December
No Southeastern trains to London Bridge, Charing Cross or Cannon Street until 1 January
No trains between Manchester Piccadilly and Manchester Oxford Road on Christmas Eve and from 30 December to 1 January
No trains between Birmingham New Street and Wolverhampton via Sandwell and Dudley until 2 January
Buses replace trains between Maghull and Ormskirk from 27 December to 7 January
Details of all engineering works are available from National Rail Enquiries.