UK 'Christmas terror plot': Police searches resume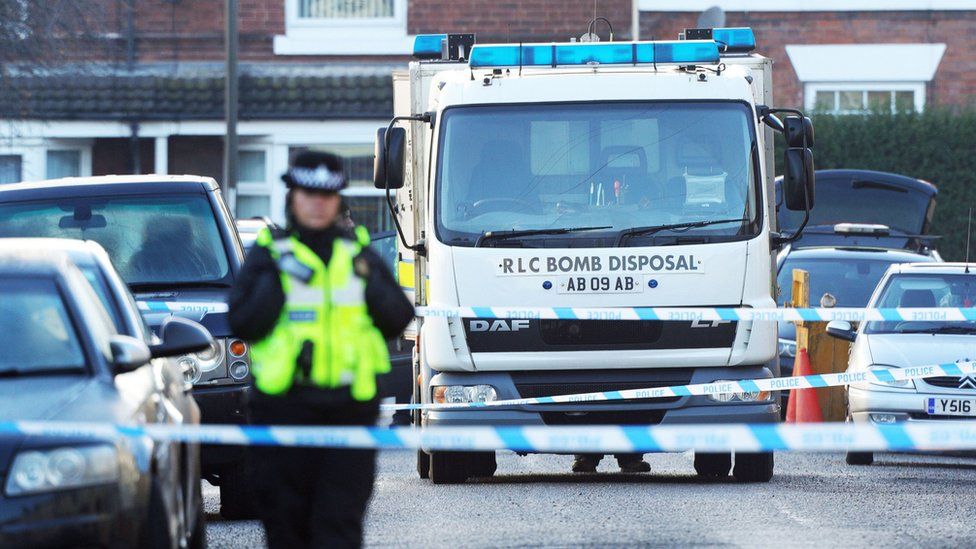 Counter-terror police are carrying out searches of two properties after they foiled an alleged Islamist terror plot that may have happened at Christmas.
Armed officers and an Army bomb disposal squad were involved in raids on five properties in South Yorkshire and Derbyshire on Tuesday.
Four men arrested under the Terrorism Act remain in custody.
Searches at scenes in Burngreave, Sheffield, and at a house in Chesterfield are under way.
A 31-year-old man was arrested after the bomb squad cordoned off a street in Chesterfield.
Three other men aged 22, 36 and 41 were arrested in the Burngreave and Meersbrook areas of Sheffield.
The cordon around one of the properties - the Fatima Community Centre on Brunswick Road in Burngreave - was extended on Tuesday afternoon and the bomb disposal unit was brought in.
All four suspects were detained on suspicion of being concerned in the commission, preparation or instigation of acts of terrorism, under Section 41 of the Terrorism Act 2000.
Shirebrook Road in Meersbrook, Sheffield
Two addresses in Burngreave, Sheffield - including Fatima Community Centre
A house on King Street North in Chesterfield
An address in Stocksbridge
Four men were arrested - all at their home addresses.
One in Chesterfield
Two in Burngreave
One in Meersbrook
Simon Atkinson, head of investigations at Counter Terrorism Policing North East, said: "We're working around the clock to keep people safe and to stop people who want to affect our way of life.
"It's really important that we continue to work with the public, so if anybody has any concerns report them to the police and be vigilant."
The Fatima Community Centre said it was "temporarily closed", with trustees told arrests had been made "in the flats adjacent to the centre and in the surrounding area".
In a statement, it said: "Our primary concern is to ensure the safety of all community members.
"Fatima Centre activities form an integral part of the lives of many local residents who are understandably concerned. Community users can rest assured that it will re-open as soon as this matter is resolved."
Related Internet Links
The BBC is not responsible for the content of external sites.