Rail strikes due in new year over RMT guards row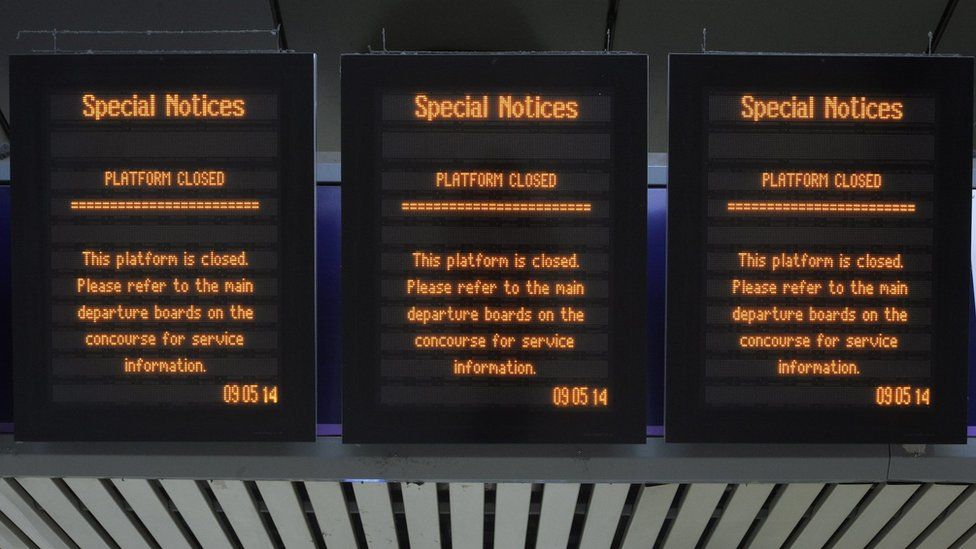 Train strikes are looming in the new year as rail workers plan a series of 24-hour walkouts in the long-running row over the role of guards.
RMT members at five operators will walk out on 8, 10 and 12 January. Workers at Southern will strike on 8 January.
The five involved are South Western Railway (SWR), Greater Anglia, Merseyrail, Northern and the Isle of Wight's Island Line run by SWR.
Northern rail said it would work to keep customers on the move.
Greater Anglia said it would run a full service on all the strike days.
Govia Thameslink (GTR), Southern's parent company, said the RMT was striking on the same day the operator had invited the union to talks.
The union said it received the letter inviting them to negotiations on Wednesday - after the decision had been made to stage industrial action.
GTR's HR director, Andy Bindon, said: "We ask them to call off the strike and come to the negotiating table as we have suggested on many occasions."
Andy Heath, managing director of Merseyrail said: "I would like to make our passengers aware that we want to make every effort to reach an agreement with the RMT and have offered to meet with them with no preconditions in an effort to resolve this dispute - something they are unwilling to do."
The RMT said it was prepared to meet for "genuine" talks and that Merseyrail's claim that the union would not meet the operator was "rubbish".
The operator SWR has not yet commented to the BBC.
The union said it had tried to resolve the bitter row over driver-only operation (DOO) of trains and has insisted the dispute is about safety.
General secretary Mick Cash said: "Every single effort that RMT has made to reach negotiated settlements in these separate disputes with the different train operating companies over safe operation and safe staffing has been kicked back in our faces.
"We are left with no option but to confirm a further phase of industrial action in the new year."
He added: "It is frankly ludicrous that we have been able to negotiate long-term arrangements in Scotland and Wales that protect the guards and passenger safety but we are being denied the same opportunities with rail companies in England."
He said the RMT stood "ready for talks" in each of the disputes.
Both Northern and Great Arriva said they had guaranteed conductors' jobs until the end of their franchises in 2025.
Richard Dean, Greater Anglia trains service delivery director said: "We are keeping our conductors on our trains. In fact we will be recruiting more."
Richard Allan, deputy managing director of Northern, added that the government last week had written to the union guaranteeing employment for conductors beyond 2025 if the RMT ended its dispute.
However, the RMT has said the guarantee of jobs is not the issue. A union member told the BBC: "The issue is about the role of the guard and the guarantee of a second safety critical member of staff, and the push to DOO on more trains."
'Backward-looking action'
A spokesman for the Department for Transport confirmed the offer had been made and said: "It is total nonsense to suggest these strikes are about jobs or safety - employees have been guaranteed jobs and salaries.
"In fact at Southern rail, where these changes have already been introduced, there are now more staff on trains.
"And the independent rail regulator has said driver-controlled trains, which have been used in this country for more than 30 years, are safe."
He added: "Not content with attempting to stop people getting home for Christmas, the RMT's version of a happy new year is to continue dragging paying customers into its futile and backward-looking industrial action.
"Despite this, rail companies will be working hard to keep people moving on RMT strike days."
Paul Plummer, chief executive of the Rail Delivery Group, said: "No-one wins from RMT strike action."
He said: "Working together, we've got to find a way through this dispute so that we can get on with the business."
Related Internet Links
The BBC is not responsible for the content of external sites.