Christmas Day deadline for Chesterfield and Sheffield terror arrests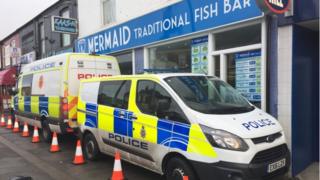 Police have been given until Christmas Day to decide whether to charge four men over a suspected Christmas terror plot.
The four, aged 31, 22, 36 and 41, are being questioned following raids in Chesterfield and Sheffield on Tuesday.
Police have until 16:00 GMT on December 25 to charge or release the men.
Detectives from Counter Terrorism Policing North East could also apply for a further extension to custody.
More on this story and others in South Yorkshire
People across Sheffield were woken at 06:00 on Tuesday by a series of loud bangs and camouflaged officers with guns.
A mosque and community centre on Brunswick Road in Burngreave was sealed off and witnesses said a man was later led away. A house on Shirebrook Road in Meersbrook was also searched.
The Army bomb squad was also deployed to Mermaid Tradition fish and chip shop on Sheffield Road in Chesterfield.
Specialist teams returned to the scene in Chesterfield earlier to assist with ongoing searches, counter terrorism officers said.
Supt Michelle Shooter of Derbyshire Police thanked people for their "patience and understanding" during the unavoidable disruption.
She said people must be "calm, resilient and measured in what they say and how they act" during the "difficult and concerning time".
David Hartley, South Yorkshire Police Assistant Chief Constable, said people will see an increased presence of armed and unarmed officers throughout the festive period.