Rogue firearms dealer Paul Edmunds jailed for selling weapons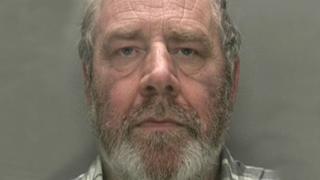 A firearms dealer who supplied illegal handguns and homemade ammunition linked to more than 100 crime scenes has been jailed for 30 years.
Paul Edmunds, of Hardwicke, Gloucestershire, supplied guns and bullets used in three murders and an attempt to shoot a police helicopter.
At Birmingham Crown Court the 66-year-old was found guilty of conspiracy to supply firearms and ammunition.
Judge Richard Bond called on ministers to introduce tighter firearms laws.
'Death and mayhem'
Judge Bond told him: "You ran roughshod over your legal responsibilities as a registered firearms dealer."
The judge also said regulations about firearms had to be made tighter.
He said: "Unfortunately it takes just one person, as this case shows, to act in breach of the trust placed in them.
"Death and mayhem follow."
The judge said he had been "aghast" to hear from one legally-registered firearms importer, who gave trial evidence, how packages were "not always checked" by UK border officials.
Judge Bond said: "Are the public aware that there is legislation to prevent the sale of scrap metal for cash, whilst an antique firearm can be bought and sold for cash, and the seller is not obliged to keep any record?"
During the trial, the court heard Edmunds, of Bristol Road, was arrested at his home in 2015, where he had three armouries he used to make ammunition to fit antique weapons.
Pre-war pistols
The two-month retrial heard Edmunds and middleman Dr Mohinder Surdhar - likened by police to the lead characters in the TV series Breaking Bad - acted together to supply antique revolvers and custom-made ammunition to criminal gangs.
The crime scenes included about 50 gang-related shootings and premises raided by police between 2010 and 2016.
But police believe many other guns seized by police across the country were sold by Edmunds, who failed to keep accurate records in his firearms register.
Edmunds was caught after experts at the National Ballistics Intelligence Service carried out an analysis, uncovering the growing trend of pre-war pistols used in a rash of shootings.
Surdhar, 56, from Grove Lane in Handsworth, Birmingham, admitted conspiracy to supply firearms and ammunition between 2009 and 2015 before Edmunds' trial.
Surdhar will be sentenced on Friday.