Steroids 'sold illegally to teens', BBC South East finds
By Colin Campbell
BBC South East Special Correspondent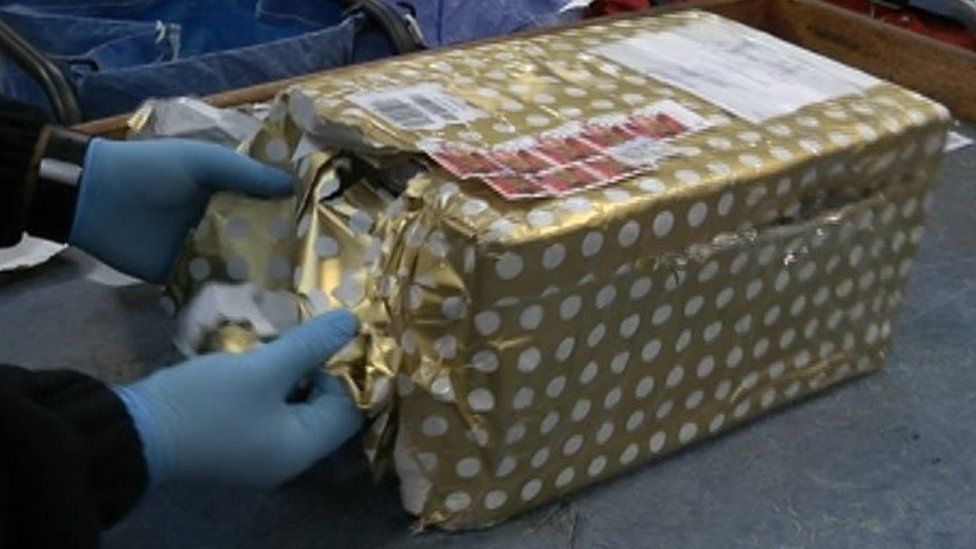 Steroids are being sold illegally to children as young as 14, BBC South East has discovered.
The BBC found dealers openly sell the drugs online and two websites offered to sell to a reporter posing as a boy.
Drugs charity Addaction said steroid users, aged 14, had sought help.
Border Force figures show a 35% spike in seizures from 2016-17. James Morgan, deputy director, said young men were increasingly turning to these drugs because of wider societal pressures.
"These drugs are not benign, they're not a soft option. They cause real profound long-lasting harm to people's health," he said.
The BBC saw numerous packages containing steroids at the Border Force processing centre in Heathrow - one, wrapped up like a Christmas present, was on its way to Kent.
Nick Hickmott, from Addaction, said steroid use could be "a hidden epidemic", with usage so widespread that steroids could become the new legal highs.
"It is really hard to gauge how big this is," he said. "But everything anecdotally that we're getting is that it could be huge."
Steroids and many other image and performance enhancing drugs are legal to use but illegal to sell without a relevant medical licence.
The BBC found scores of dealers sell them - sometimes on an industrial scale - on business websites and Facebook, and reporters bought the drugs from a dealer advertising openly on websites.
One of the websites which offered to sell steroids to a reporter posing as a boy boasted the packaging would be discreet enough to send to a school.
When the BBC confronted one dealer, amateur bodybuilder Dariusz Kalisztan, and asked how widespread his trade was, he claimed to have only sold drugs to the reporter.
Sandra Gidley, from the Royal Pharmaceutical Society, said people were playing with their lives, and risking kidney, liver and heart disease, along with cysts, heart attacks and strokes in the future.
"They lull you into a false sense of security," she said.
"They sit down, they very carefully explain the regime. But when you ask about side-effects they talk about the benefits, the muscle gain.
Related Internet Links
The BBC is not responsible for the content of external sites.