Controlled explosion after Christmas 'terror plot' raids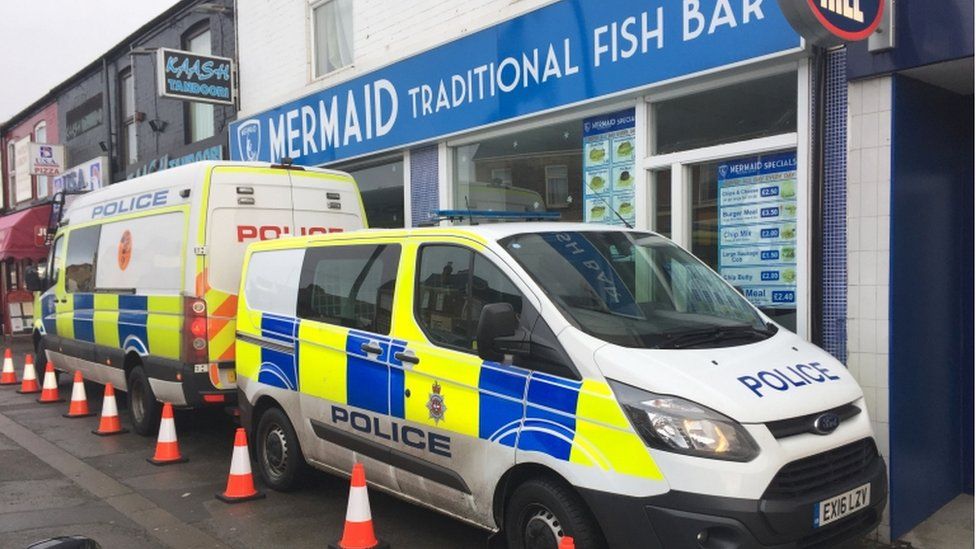 An Army bomb disposal team has carried out a controlled explosion of material found following raids on properties in South Yorkshire and Derbyshire.
Four men, aged 31, 22, 36 and 41, are being questioned after the raids in Chesterfield and Sheffield.
The explosion, which took place at a nearby "safe location" earlier, was to destroy material found at a property in Chesterfield.
Specialist teams are continuing a search of the premises, police said.
Supt Michelle Shooter of Derbyshire Police said: "Public safety is our priority and we understand events like this can be concerning. Our message remains for local people to remain alert but not alarmed."
It comes after the Army bomb squad was deployed to Mermaid Traditional fish and chip shop on Sheffield Road in Chesterfield on Tuesday.
A mosque and community centre on Brunswick Road in Burngreave, Sheffield, was sealed off and a house on Shirebrook Road in Meersbrook was also searched.
Police have been given until Christmas Day to decide whether to charge the four men being held over a suspected Christmas terror plot.
Related Internet Links
The BBC is not responsible for the content of external sites.