New Year's Day deadline for Chesterfield and Sheffield terror arrests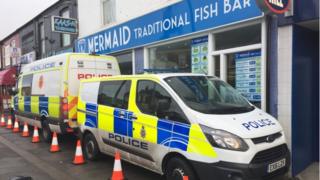 Police have been given until New Year's Day to decide whether to charge three men over a suspected Christmas terror plot.
Four men were being held after the raids in Chesterfield and Sheffield but police said one of them, a 41-year-old, had been released without charge.
Detectives were granted an extension on Saturday to continue questioning the other men, aged 36, 31 and 22.
Searches are ongoing at an address in Chesterfield.
On Friday, an Army bomb disposal team carried out a controlled explosion of material found at a property in Chesterfield.
It comes after teams were deployed to Mermaid Traditional fish and chip shop on Sheffield Road in Chesterfield on Tuesday.
A mosque and community centre on Brunswick Road in Burngreave, Sheffield, were sealed off and a house on Shirebrook Road in Meersbrook was also searched.
David Hartley, South Yorkshire Police assistant chief constable, said armed officers would be visible at events over the festive period.
He added: "We have a detailed understanding of all our events, shows, sporting fixtures, markets, attractions and seasonally busy places, and it's in these places that you will see armed and unarmed staff."